Let's start to get 100+ credits every day with
DingCredit

!
Step 1 Tap "More", Click "Get Free Credits"
A pop-up window will ask your permission to let DingCredit work. Click "OPEN SETTINGS".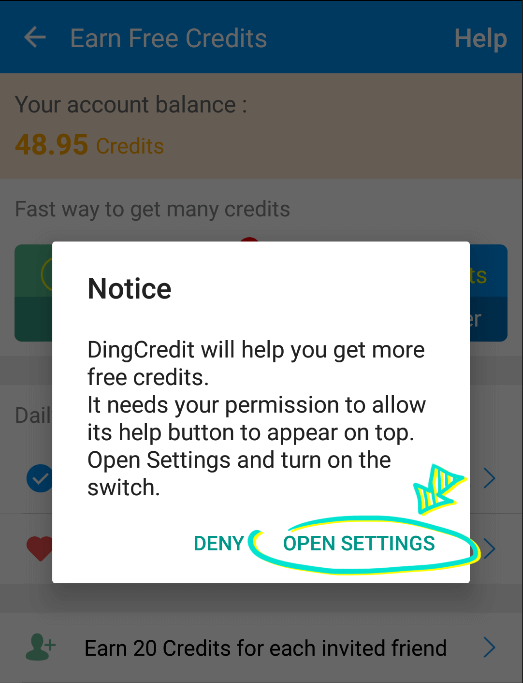 Step 2 Turn on the Permit Button
Turn on the button and let DingCredit icon float. Then click "Back" button, return to Dingtone.
Step 3 Click "CONTINUE" to Enable VPN
This is the confirmation page to confirm the VPN connection of DingCredit. With DingCredit opens, you will get more offers, and get even more credits.
Step 4 Click "OK" to Confirm
Step 5 DingCredit is ON
Step 6 Get Unlimited Offers
You will then get unlimited offers when DingCredit is enabled.
Step 7 Complete an Offer and Get Credits Rewards Easily
Notes:
1. With these easy credits, you can make free phone calls to any phone number around the world. ❤️
2. While completing an offer, please make sure VPN is always on. (The ip address needs to be consistent when you click the offer and open the offer app)
3.  If you cannot connect to DingCredit, contact support@dingtone.me. Our team will be glad to help.
---
Comment below to share your experience of using DingCredit.❤️
We assume that you can get a lot of credits with this powerful tool!
Everyone, please enjoy! 😉😉😉