3 years after debut, Dingtone ranks 15 in the United States Google Play app charts under social category. In a short period, Dingtone has accumulated about 30 million loyal customers and the number is still on the fast increase. So what is the magic of this Dingtone app? Let's take a close look into Dingtone, a free calling and texting app, and yet, far above that.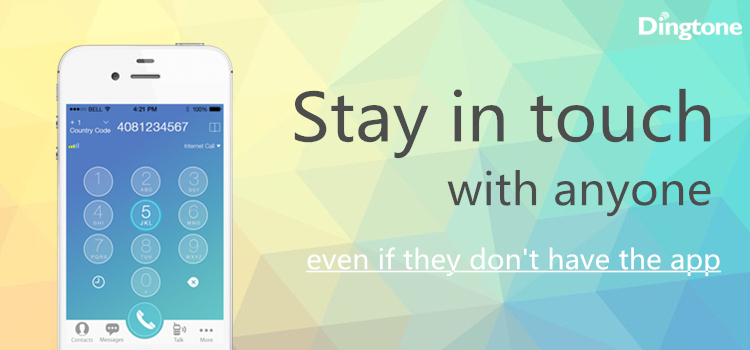 Free phone calls all over the world – enter the world of really free phone calls
Still paying for expensive monthly plans? If you are a heavy phone talker, you definitely know the stress of hitting cell minutes limit at the end of month. However, Dingtone users never need to worry about the limit and can talk as long as they want while staying on budget.
Instead of relying on cellular network, Dingtone uses the internet which you are already paying for to transmit phone calls. As long as both the caller and the receiver use Dingtone app, calls are totally free. Even if you are continent apart from your family and friends, you can make free calls once they get the free download app.
To call people who don't have the Dingtone free phone call app, you are charged with a small rate which is almost 90 percent lower than major cell phone carriers. Even better, you can earn free calling credits simply by checking in, watching videos, referring friends and completing sponsored offers. Spend a few minutes collecting credits every day, and soon you will be able to call any landline or mobile without paying a single penny.
U.S. phone numbers – get a new phone number without changing SIM card
Another prominent feature of Dingtone is it has millions of real phone numbers to provide. You can pick a real phone number for US, UK, Canada in a few minutes without the hassle of signing up with a phone company. There are no monthly fees or long-term commitments, which makes Dingtone a perfect choice for your second number. Prefer to keep your personal digits private? Want to separate work calls from personal calls? Let Dingtone phone number do the work.
Multimedia messages sharing – share photos, videos and locations anywhere anytime
Dingtone has a lot of interesting and useful features apart from free calling and free texting. The multimedia messaging feature and cross-platform compatibility allow you to share anything you want with the ones who matter anytime, anywhere, for free.
To use the latest features, please make sure you have the latest Dingtone app.