Unlike emails, which often pile up unread in a customer's inbox, your text messages are rarely ignored. In fact, according to the statistics released by Gartner, SMS opening rates are as high as 98%, versus just 20% for email. This makes the content and timing of your texts critically important in ensuring customer satisfaction.
However, business text messaging has been a blessing as well as a burden for some companies. On the one hand, businesses have more ways to interact with prospects and customers. On the other, business text messaging requires companies to actually monitor, respond, and engage consistently with customers.
Today, it is imperative to boost business efficiency and effectiveness for all customer conversations. Then, what can your business do to ensure a positive conversation experience through text massaging? Let's dive into some proper business texting etiquettes that help to engage customers and drive more business.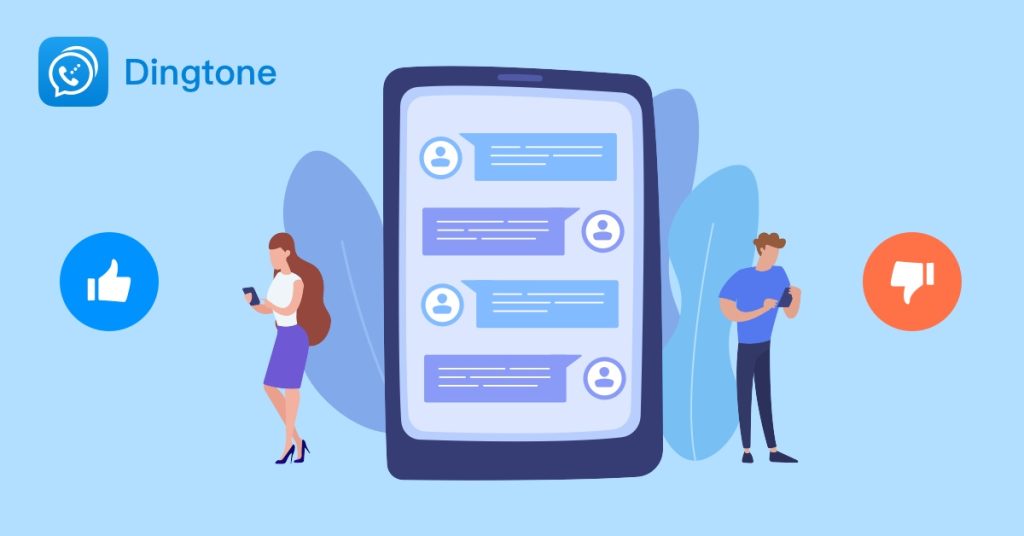 Do reply timely and promptly.
When you receive a text, try to respond in a prompt way. There is a certain etiquette to being timely with texting and an expectation that the replies will come as soon as possible. At the same time, you're not beholden to your device. If it's not an appropriate time to reply, you can set the automatic reply message or voicemail to inform the caller you are busy now and will reply once you are available.
Do keep texts short and precise.
We live in the age of short attention spans (and that's becoming increasingly shorter). Customers want to message to be short and to the point as they check. If it gets too long or even becomes an "article", the text will instantly be a burden to the person on the receiving end. You should first be clear about your intention and gist of the conversation and shorten the sentence as you can. If you really have a lot to say, it'll be a wise choice to break up the message into several texts and send the pieces separately so that it will be much easier for the receiver to read.
Do have friendly and polite manners.
When you're writing business texts, it can be easy to slip into an imperative tone that comes off as brusque or cold. While you don't want to populate your text with exclamation points and smiley faces, it doesn't hurt to use a warm tone. A simple "please," "thank you," or "good morning," can go a long way in making your messages well received and read.
Do re-read your texts before sending them.
Autocorrect errors are fun to giggle at when they're posted to Facebook, but they aren't always a laughing matter when mistakes happen to you in business scenarios. To save yourself from such embarrassment and potential doubt about your slack attitude from your customers, please show some care for the person you're communicating with by taking the time to re-read your messages before you hit send.
Do find an efficient and free texting tool.
Sharpening a knife does not mistake cutting wood. A smart tool is able to effectively and efficiently shine your business.
Dingtone users can send and receive free text messages over WiFi or a 3G/4G data network without using cell minutes. Moreover, it provides valid phone numbers with true area codes (over 200 area codes are supported by Dingtone) and enables users to call and text unlimitedly at a low cost via Internet access. In addition, Dingtone is one of the most versatile texting apps with other features including multi-party conference calls, multi-platform compatibility, and group chats. With Dingtone, users can send totally unlimited texts and SMS messages to anyone, even if a non-Dingtone user.
Don't text too early or late.
No one likes to be rustled awake by a midnight message, so make sure you send your business texts at an appropriate time. The best time to text your customers is soon after they text you. That way, you know that they are already engaged in the conversation. Similarly, you can reach out to them immediately after they opt-in to receiving your SMS, or right after they submit a support ticket. A rule of thumb is to keep the bulk of your messaging between 9:00AM and 6:00PM unless the customer reaches out first.
Don't forget to introduce yourself.
Please introduce yourself and your business at the beginning of your text message even if it's been done thousands of times (such a habit saves much time and trouble). The customer shouldn't need to become a detective to figure out who is sending the text message. Odds are, they may not have your contact info saved in their contact list. Therefore, when the first text is sent, remember to introduce yourself, or at least hint at who you are.
Don't use unprofessional language.
Unlike the messages you send to your friends and family members, which may abound in the latest texting abbreviations, catchy phrases, and incorrect spelling and punctuation, the right grammar and proper diction in business massaging are important details to earn up your customers' trust. Not everyone interprets shorthand well, and you want to make sure that you're well understood. You should also be careful of using emoticons or emojis to convey your feelings — just don't go overboard with their use.
Don't forget to double-check the recipient.
Be extra careful with the autofill function in the text's "send" field. Typing in the first letters of someone's name and relying on autofill to do the rest could result in an awkward situation when the wrong James or Jill receives your message. It's even worse if some business information is leaked out due to small mistakes.
Business text messaging doesn't have to be a cumbersome exercise though. The abovementioned dos and don'ts are a few of the initial best practices and proper etiquettes. By following these tenets of business texting etiquette, you will have a head start on your own business text messaging programs and your brand can connect with customers in a more powerful way.
Calling for a large number of business texts for business but worried about the high budget?
Use a Dingtone number instead.
Dingtone provides a LOW-COST calling and texting plan with a VALID phone number carrying a REAL area code that can be selected based on SPECIFIC needs.
Besides, a Dingtone number can be also used for business alone to show profession and focus so that life and work things won't be mixed together.