Twitter, like other social media platforms like Facebook or Instagram, is playing a role more than as a social media alone, having been widely used as a channel by marketers from huge companies, small businesses, or even individuals. Therefore, it's necessary to register for Twitter without using your private phone number so that job things and private life won't be mixed together.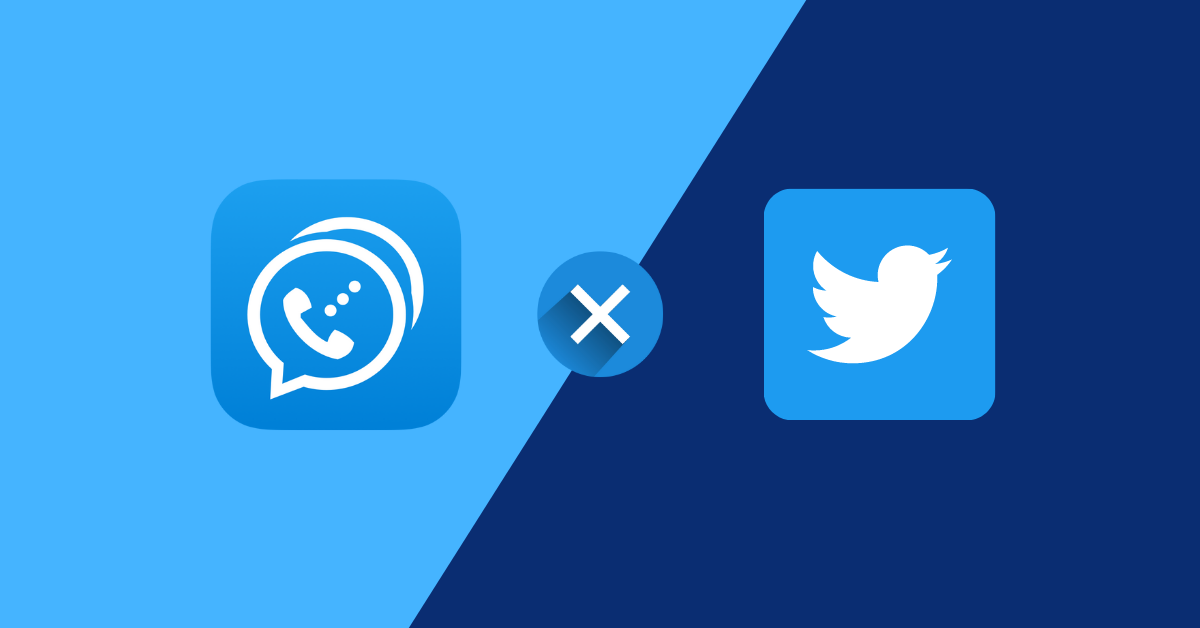 Why a Private Number isn't Fit for Twitter?
The subtitle of this part isn't saying a private number goes against Twitter.
However, keep in mind that if you create a Twitter account for yourself and want to share your life, a private number is suggested; if you create a Twitter account for business, a private phone number is never an option.
Your private number should ONLY be linked with your private accounts no matter what platforms you use for life content sharing.
You'll never be able to know how risky it's to use a private number for Twitter unless such news comes out titled "Hacker claims to be selling Twitter data of 400 million users". According to the hacker mentioned in that news, more than 400 million Twitter users' information has been breached including email addresses, names, usernames, follower count, creation date, and phone numbers.
Advantages of Using a Second Number for Twitter
Everyone needs a second phone number, but not everyone knows.
Everyone needs a second number, not a second phone.
Keep Life and Job Separated
It's quite important and necessary to separate life and job if you want to well deal with them both. However, it's been widely believed as a myth.
The truth is a work-life balance will ALWAYS be a myth unless a second number is used.
It's the most annoying when a phone call arrives as you're streaming a hockey game with your family. Whenever a phone rings, both parties will be upset. Your kids will be angry with you since they know you're ready to leave for a while. Meanwhile, the caller might be upset as well because of the way you perform out of the profession.
The same goes on Twitter when a private phone number is used. The account linked with your private number is just related to your private things like your hobby, family, friends, etc. The account linked with your business number is just related to your business things.
Market Your Business
Twitter also markets some products or services based on the accounts you follow or the profile you provide. If you use a number specifically for business on Twitter, the ads marketed to you will be related to your business so that it's possible to expand your business with ease. In addition, the hashtags recommended based on your business number account are important for you to track detailed trends concerning your business so as to take advantage of them for easy marketing.
Protect Your Privacy
As the Internet has been widely used in current life, it's increasingly easy for people to suffer from data breaches or privacy leaks. The private phone number is regarded as the unique identification of a person and almost all online registrations call for a phone number to identify a user online. As a result, many online accounts have been linked to your private phone number and once one account gets hacked, all the other accounts will be risky as well. If a second phone number is used for Twitter, such worries won't be available anymore.
How to Register for Twitter with a Second Phone Number?
A second number can be got from Dingtone and can be used for Twitter registration based on the steps below.
Step 1. Download and install Dingtone on your phone, iOS or Android, smartphone, or tablet.
Step 2. Create an account on Dingtone and select a number from it. Any area code can be selected based on your needs.
Step 3. Go to the Twitter Login page and click the "Sign up with phone or email" button.
Step 4. Fill in your name, Dingtone number, and date of birth before clicking the "Next" button.
Step 5. Get a verification code from a message received on the Dingtone app and fill it in the right block to complete registration.
Why Dingtone?
Dingtone not only provides a number but also
Allows users to call and text any number around the world
Reduce users' cost of calls and messages
Provides high-quality and non-stoppable calling and messaging services
Enables users to select any area code in the US
Establishes a Dingtone credit system to let users enjoy free calling minutes