Have you ever been troubled with the difficulty of getting another phone number without another phone? Or do you want to get a phone number for your tablets to make them become phones for your parents? With Dingtone App, it only takes a few efforts to get one for free. The Dingtone app provides millions of real phone numbers in any region you like. Just like any other number you can get from local carriers, Dingtone phone numbers support caller ID, call block, call forward, voicemail, texting, and even can be used to register accounts on social media apps.
How to Easily Get a Free Phone Number on Dingtone?
It's so easy to get a phone number from Dingtone at no cost and only a few steps are needed.
Step 1. Download and Register a Dingtone Account on Dingtone App.
Dingtone App is available on both App Store and Google Play Store, easy for iOS and Android users to download. In addition, Dingtone App can be directly downloaded from here and the corresponding version can be selected based on the operating system you're using.
A Dingtone account registration is allowed to be linked with multiple IDs including email address, Facebook account, WeChat account, etc., compatible with different demands of users.
Step 2. You'll have a randomly assigned phone number for free as you make your first call through Dingtone.
As you've earned Dingtone credits, you can make calls to anyone on Dingtone by tapping the central button at the bottom of the user's interface. With a country code and a number entered, you'll be able to dial out.
As you make this call, you'll receive a randomly-assigned US number from Dingtone. The number can be checked by conforming to "Connect" > "My Phone Numbers". It's absolutely free but it has such a limited valid time that it can't be used anymore once it gets invalid.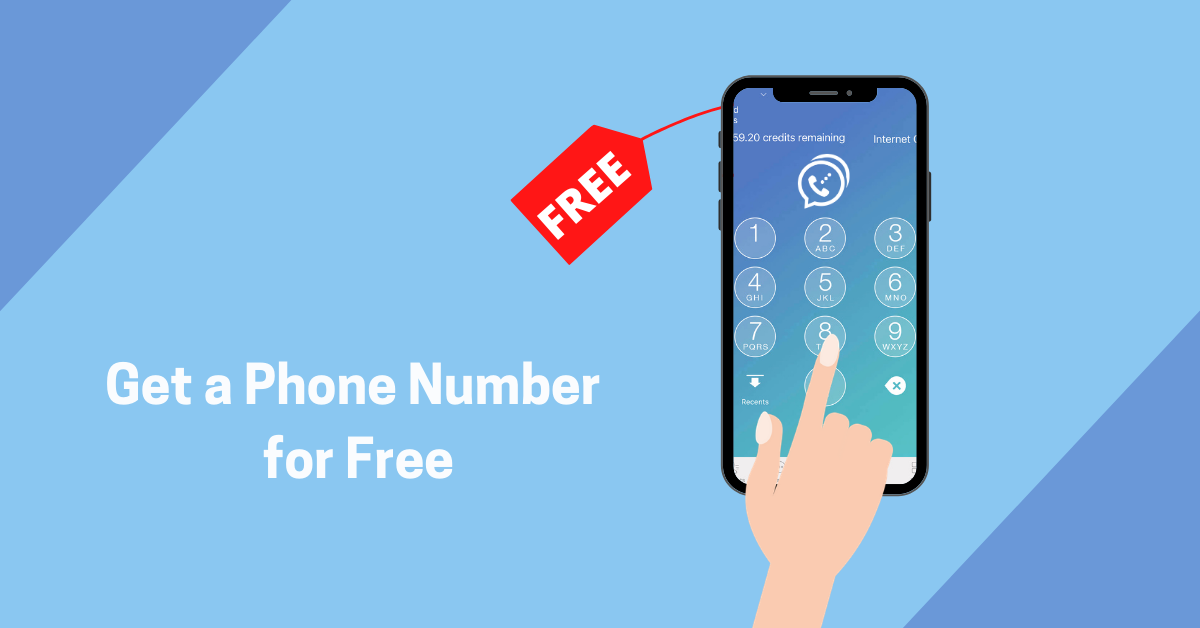 How to Get a Free Phone Number that Really Belongs to Me from Dingtone
Just like what's discussed above, a randomly-assigned Dingtone phone number is free but it fails to be used as your own number. Nevertheless, Dingtone users are still allowed to get a free phone number from Dingtone and the number really belongs to them.
Step 1. Access the number list.
Click "Connect" > "My Phone Numbers" > "Add a New Phone Number" and you'll have access to the list of phone numbers to be selected.
Step 2. Select a country code.
Choose a country for your number. Up to now, the country's Dingtone phone numbers cover the US, Canada, and most European countries.
Step 3. Select an area code.
Enter an Area Code or City Name and then select the phone number you want.
Click the number you want and click "Continue" at the bottom to enter the payment page.
Step 4. Pay for the number.
You can directly pay for the phone number if you're in a rush to get this number for your business. You can also choose an alternative way by which you can get a real phone number for free, please continue with Step 5.
Step 5. Get a phone number for free.
You can earn credits to buy this number. Before that, it's necessary for you to know what are Dingtone credits, how do they work and how to earn them. In summary, Dingtone credits play a role as money in your Dingtone wallet and they can be used to make phone calls and send messages. Multiple ways are available to earn them on Dingtone App. The following part will introduce them in detail.
After all these procedures, congratulations! You have now successfully got a second phone number with Dingtone. Now you can say hello to unlimited calling and texts!
What are Dingtone Credits and How to Earn Them
Dingtone credits are used as virtual money within Dingtone App. Dingtone users are able to earn Dingtone credits in multiple ways and the earned credits will be stored in a personal Dingtone account. As users call or message, some Dingtone credits will be consumed. If you have enough Dingtone credits, you are also able to buy a phone number from Dingtone.
Dingtone credits can be earned in the following ways:
Daily Check-in
I'm feeling lucky
Play games
Invite friends to use Dingtone
Complete profile
Offers and surveys
What's Good About Dingtone Phone Number?
You don't have to go through the hassle of registering with a mobile phone company and paying for a heavy monthly plan anymore. You can pick a new real phone number on Dingtone App without the need of getting an extra SIM card. And there are no monthly plans or hidden fees.
If you go to a mobile phone company and buy a new number directly, you may get one you don't like much after spending a lot of time. On Dingtone, you can choose the one you like best. You can take your time and choose a good number that you may not get from another carrier.
Phone numbers offered by Dingtone are available for multiple countries. Dingtone provides international phone numbers for many countries: the United States, UK, Canada, Spain, Netherlands, Sweden, Belgium, and so on. You can get a local phone number to enjoy local service when you're traveling abroad whenever you want. Stop paying outrageous roaming charges just to communicate with local friends, Uber drivers, hotels, and restaurants.
What Amazing Functions Do Dingtone Phone numbers Offer?
You can use the phone number as the contact phone number for your bank accounts, utilities, and websites
It can even be ported out to your phone company if you like.
Set up voicemail, call block, and call forwarding to any mobile phone devices
All Dingtone numbers are real local phone numbers with local area codes for you to choose
No contract, no commitment, no international roaming
No need to change SIM cards or switch phone companies
It can receive calls and texts from any person, in any country
What Can You Do with Such a Perfect Second Phone Number?
Boost your business
The second phone number will allow you to select a local number, increasing its reliability when contacting potential customers. The more customers look up your phone address and see your local area code, the more they'll trust you and the more products you'll sell. You can also use this phone number to sign up at all major social media sites, and these accounts are only available to your employees, so you can market your business freely and safely.
Traditional landline phone service is very expensive, especially for a company that makes a lot of calls. When you sign up for a service plan, local and international calls are divided into different plans, and providers often charge additional duties and fees, some of which are very high.
Using a phone number through a wireless phone application like Dingtone, you can make a call for less money than using a fixed phone or a mobile phone with a monthly bill, because it doesn't use infrastructure or SIM CARDS. The number you need is an Internet connection. So when you use a tin-tone second number for your business, your operating costs go down. This is because, for a calling application, all Numbers are the same, whether local or international. Thanks to the Internet.
Virtual Office
If you want to establish a local presence in a different city or country, having a second phone number with a corresponding area code can give the impression that you are physically located there, which can be useful for businesses or individuals targeting specific markets.
Remote Work and Freelancing
As remote work and freelancing become more common, a second phone number can be useful for maintaining professional communication with clients, colleagues, or customers, especially if you work in different time zones.
International Communication
If you frequently communicate with people in different countries, having a second phone number with an international calling plan can be cost-effective. It allows you to make and receive international calls without incurring high charges.
Temporary or Disposable Use
When you need a temporary phone number for a specific purpose, such as online dating, classified ads, or short-term projects, a second phone number can be used and easily discarded once the purpose is fulfilled.
Keep your work and personal life separate
One telephone has two Numbers. It's as simple as that, but most phones don't have that option. That is what a Dingtone is for. Dingtone app gives you a free online phone number, so you can have one for your personal life and another for your work. So, not only does your company get an upgrade and save money, but when you get a free second phone number, you protect your personal life from the distractions of work. Your second phone number can be dialed and answered through the calling app, and your normal phone number can be used as normal.