Grindr is a mobile social networking app. Grindr for Equality works toward a world that is safe, just, and inclusive for people of all sexual orientations and gender identities. Users with non-traditional sexual orientations can easily meet people with similar orientations there.
However, there is a risk in uploading your photos and sharing your personal information on the Internet, especially while online dating. There are always people with ill purposes on dating apps like Grindr. After all, it's critical to keep your personal information safe from them. As a result, numerous people are hesitant to use it due to privacy and security concerns.
Fortunately, you can register for a new Grindr account by using a Dingtone phone number. So you don't have to worry about your personal information being exposed.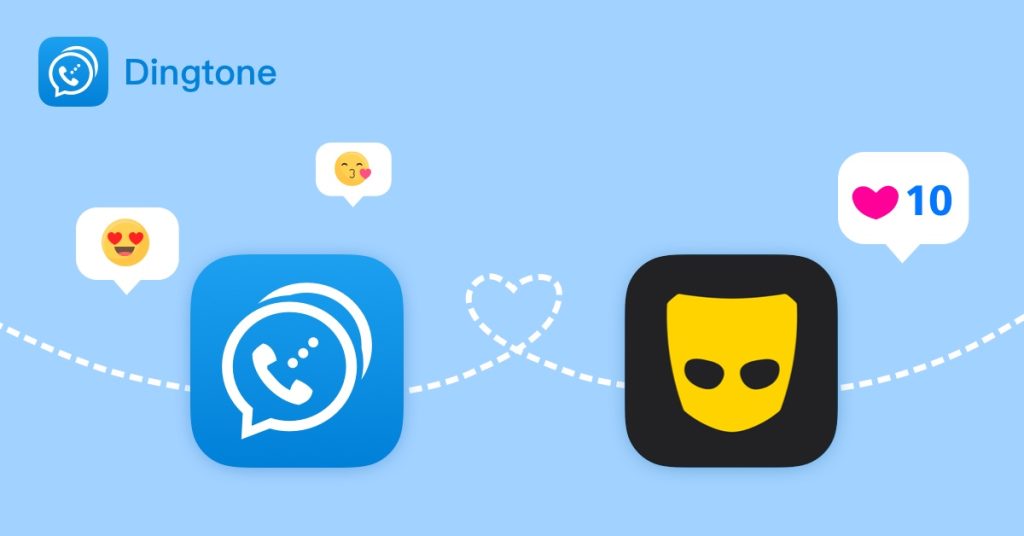 How Risky Your Privacy Will be if Your Private Phone Number is Given to Grindr?
On the one hand, it puts your property and even safety in danger. In early May, James met a man on Grindr. It began with a normal chat and later had a conversation with a private phone number. It appeared to be a real relationship. Unfortunately, the man cheated him to hand over 20,00 dollars in less than a week. This is not an exception. It is reported that there is a 40% increase in incidences of people being duped into transferring money to persons they met online. Once the fraudster or freak gets your private number, you're in a corner. Therefore, a second number is especially crucial on a dating app because it typically includes chatting to tens of strangers, and there's no reason to disclose your personal information to all of them.
Benefits of Registering for Grindr with a Second Phone Number
Using a second phone number is the EASIEST way to protect privacy when signing up for Grindr.
First, protect your private number (the eternal way to reach you) from being exposed.
Your phone number is probably linked to a lot of sensitive information about yourself: your name, job, address, email, and possibly even banking information could all be found with a quick online search. Once your private number gets exposed online, all your other personal information will be extremely possibly trackable thereafter, which is like a threaded end leading to a whole thread ball. For example, you go on a first date and it doesn't go well, so you refuse the second date gently. However, the other party is unwilling, so he/she starts using your phone number link to search for personal, sensitive information online in order to call or annoy you or follow your status on social media platforms like Facebook, Instagram, etc. To avoid this awkward situation, using a second number to create Grindr is a wiser choice.
Second, keep you safe from hackers.
Grindr, like Facebook and Google, is a popular target for hackers. Grindr is accused of disclosing its users' HIV statuses to two third-party firms, Apptimize and Localytics. Given the app's 3.6 million daily users, that's a significant infringement of privacy. Worse, the technological behemoths may also profit from your information. Your financial information, such as credit card or bank account information, might potentially get into the wrong hands. That would be even more catastrophic. As a result, if you use your true information to create a Grindr account, cybercriminals will take advantage of you.
Third, smartly separate professional and personal lives.
Are you using your private phone number for all situations? If so, the messy extent of your life and business can be well imagined.
Everyone needs a second phone number but not everyone knows.
With a second number for online dating, in your free time, you can enjoy life and dating without being disturbed. If you want to have a work-life balance, using the second number is helpful as well. Whenever a call arrives from the job line during your vacation, it can be directed to voicemail or rejected so that your time with family won't be compromised by a call.
How to Bypass Grindr Phone Verification with a Dingtone Number (Free to Get)
How to get a second number? A top solution – Dingtone!
Step 1. Download Dingtone to your device, iOS or Android.
Dingtone can be used on both iOS and Android devices and it's free to download.
Step 2. Create an account on Dingtone.
Multiple ways are supported by Dingtone to create an account.
Step 3. Get a Second Number from Dingtone.
Dingtone provides international numbers with different area codes from the world's leading countries. To protect your privacy, choose a location that is different from your current location. The Dingtone number can be used to reach any line, either landline or mobile.
Step 4. Sign up for Grindr and Bypass the Phone Verification with the Dingtone Number.
A Dingtone number is a real one, so the process is the same as SIM card phone numbers. With the Dingtone number filled in the right place and a text message containing a verification code will be received via the Dingtone app.
Dingtone can't promise to find your next date or true love, but it can keep you safe while you're navigating the online dating jungle!
Apart from Grindr registration, a Dingtone number can be also used to sign up for whichever dating app you're using, such as Tinder, POF, SKOUT, Hinge, Telegram, and WhatsApp.
Bottom Line
On the one hand, a private number puts your property and even safety in danger. On the other hand, privacy issues should be concerned.
Using a second phone number is the EASIEST way to protect privacy when signing up for Grindr.
Your phone number is probably linked to a lot of sensitive information about yourself.
Grindr, like Facebook and Google, is a popular target for hackers.
In a word, using a second number is conductive to enjoy dating without worries.