Dingtone supports the messaging feature allowing its users to send and receive messages to and from any number around the world. If you send a message to the wrong person or a wrong message to the right person, you can recall it on Dingtone. It's never too late to recall a message.
Do you ever accidentally send a message to the wrong person?
It's quite common that a message is sent to the wrong person on Dingtone, which occurs especially when too many messages need dealing with at the same time. And sometimes, the person is right, but the message is wrong! It's necessary to recall and reedit it so as to minimize the misunderstanding.
How can you pull such a message back on Dingtone, then?
Today we are introducing "Recall", a very useful feature for chatting.
How to recall a message on Dingtone?
Step 1. Tap the sent message long and a feature bar will be seen with Copy, Forward, Favorite, Recall, and Multiselect on it.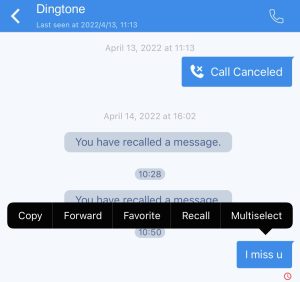 Step 2. Tap the "Recall" and confirm the feature by tapping the "Recall" as a confirmation question is asked.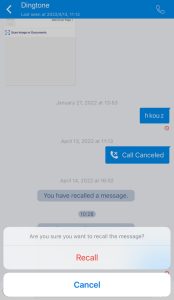 Then, you'll be able to successfully recall a message with a notification on the message block as below.