Facebook is a social media platform that connects people from all over the world. As of the fourth quarter of 2021, Facebook had over 2.93 billion monthly active users, making it the largest social network worldwide. While creating a Facebook account is easy, many users are hesitant to share their phone numbers during the registration process due to privacy concerns.
Why Facebook Requires Your Phone Number?
Facebook is full of pranksters, spammers, and fake accounts used for stalking and harassment. Identity theft is not uncommon and should not be taken for granted. The phone number verification system was introduced to prevent fraudulent activity and make it easier to track fake and spam accounts. Another benefit of having a verified phone number is that even if someone knows your password, they won't be able to access your account without entering a confirmation code. Facebook also asks for users' phone numbers for a variety of reasons. Phone numbers can be used to reset forgotten passwords; recommend people you may know so you can connect with them on Facebook, and keep your Facebook account secure with two-factor authentication and text alerts for potentially unauthorized logins.
Why is it Necessary to Delink a Facebook Account to Your Private Phone Number?
Facebook is one of the most popular and widely used social media services with 2.8 billion monthly active users. It ranked seventh in global internet usage and was the most downloaded app of the 2010s. Having a Facebook account helps you connect with friends, colleagues, acquaintances, and others around the world. Not only can you interact with them, but you can also share pictures, videos, memes, and other information digitally. When a person wants to open a Facebook account, they need to register their mobile number as a registration process.
However, Facebook faces many controversies over privacy and the sale of user data. Most people are skeptical of this process because it increases privacy risks. The safest thing to do is to create a Facebook account without a private phone number and protect your privacy. The easiest way is to sign up for Facebook with your email address or a second phone number. No one will track your phone number through this process and there is no security issue.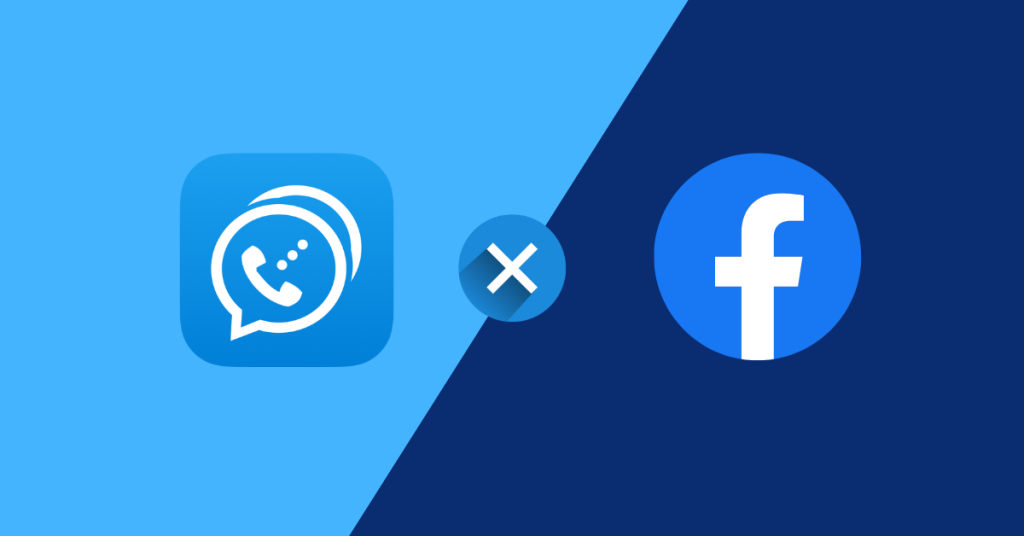 A Step-by-Step Guide to Creating a Facebook Account Without a Private Phone Number
Dingtone is one of the biggest online providers providing valid virtual numbers to users around the world and a second phone number can be selected from Dingtone for SMS verification on Facebook.
Install Facebook on your device, Android or iOS, a smartphone, or tablet.
After installing the app, click the open button and you will be redirected to the app.
You will see two options: "Log in" and "Create a new account". Click the "Create New Account" option.
A pop-up menu will appear asking you to allow Facebook to access your phone contacts. You can click deny. You can also restrict access to your location if they ask for it.
Now, enter your name, date of birth, gender, and password in the appropriate boxes. Choose a strong password with words, numbers, and special characters for added security, which you can change later.
An option appears asking you to enter a phone number and enter your Dingtone number there to get a verification code SMS.
Go to Dingtone app and check a newly come message for SMS verification.
Go back to Facebook and fill in the verification code to complete the registration.
This way, you can sign up for a Facebook account without having to enter your private phone number and worry about security.
FAQs about Facebook Account and Phone Number
How to change your phone number on Facebook?
If desired, you can easily change your phone number on Facebook via the platform's settings.
Here is how.
Step 1. Log in to Facebook on your PC or Mac, click the arrow in the upper right corner of the homepage, and select "Settings".
Step 2. Select "Phone" on the left.
Step 3. If there is no phone number bound to your account, you can select "+ Add Phone" to enter the number. If you have already entered a phone number, click "+Add another mobile number" to add a new number.
Step 4. Enter your number and choose whether you want Facebook to confirm the number via text message or phone call. Click "Continue".
Step 5. Enter the confirmation code you received from Facebook and click Confirm.
Step 6. You can delete a phone number on Facebook by clicking the "Delete" button below the number you want to delete.
Is it safe to give Facebook your phone number?
It's a good idea to avoid showing your home or mobile number on your Facebook page. Prank callers, stalkers, and even identity thieves can use this information to ruin your day. Not only that, but people with your mobile number (not hard to find online) can use it to search for you on Facebook.
How do I stop Facebook from asking for my phone number?
Select Settings, then Personal Information, which displays your name, email address, and phone number. Click Delete in the Phone Number field, which will prompt you to re-enter your Facebook password, then click Delete Phone to confirm the change. Look out for the confirmation email.
NOTE: In the event that you encounter difficulties with SMS verification using Dingtone numbers (mostly due to policy restrictions imposed by the registration platforms), we strongly recommend contacting our support team for prompt assistance. You can reach us by sending an email to support@dingtone.me.