Since WhatsApp Messenger keeps frequently and widely used for instant communication, it has been used more than just being a communication tool. However, WhatsApp signing up calls for a phone number and your personal phone number has been used to register WhatsApp for your personal life. To get a new account of WhatsApp Messenger for work alone, another phone number should be prepared. Unluckily, it costs a lot to pay for a new SIM card number.
Dingtone can give you a second phone number for free or at a low cost. Plus, as long as you need, you can get even the third, the fourth number from Dingtone to register for WhatsApp. This article will tell you how to do it.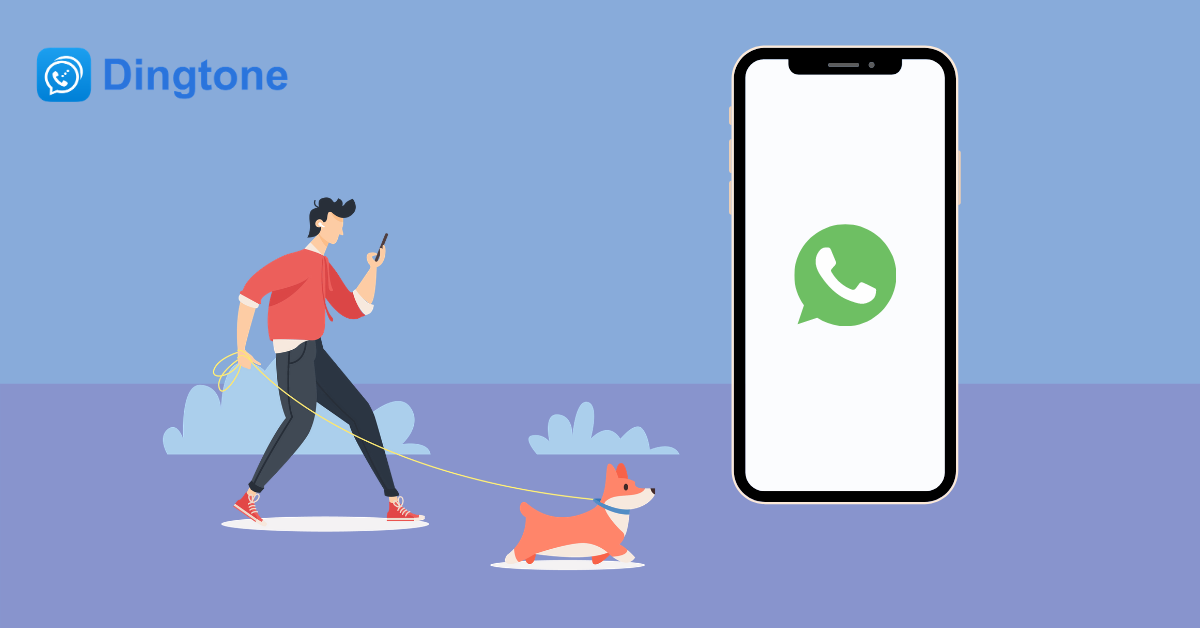 Does WhatsApp Need a Phone Number?
Yes, WhatsApp is designed to use a phone number as a unique identifier for each user. It is impossible to skip the phone number verification of WhatsApp.
WhatsApp Sign-Up Calls for a Second Phone Number, Not a Second Phone or SIM Card
Yes, it can never be admitted that a new account registration for WhatsApp calls for a second phone number, which is clarified on the welcoming page of WhatsApp as soon as it's been downloaded and installed on your device. However, you should keep in mind that what you need is just a second phone number, not a second phone. Therefore, to have a WhatsApp account, you need nothing but a second phone number that can be used for successful registration.
How to Get a Second Phone Number Valid for WhatsApp for Free?
The answer goes to Dingtone.
Basically, Dingtone and WhatsApp share both similarities and dissimilarities when it comes to their functions.
Dingtone is a free calling app that allows its users to make international phone calls and send and receive messages around the world. The phone numbers provided by Dingtone are all real phone numbers, basically US phone numbers and specifically any number from Canada, the UK, or most European countries, which are different from other calling apps that may provide random strings to play as numbers. Then, how to get a second phone number from Dingtone for free will be introduced below.
Download and install Dingtone on your device, phone, or tablet on the iOS or Android operating system.
Create an account on Dingtone in any way you like.
Tap the "Connect" tab at the bottom and then "Get Your First Phone Number".
Select a number you like and pay for it. (IMPORTANT: if you have earned enough Dingtone credits, you'll be able to pay for the number with credits and it means that's FREE for you!)
Then you can sign up for WhatsApp with your Dingtone number.
How to Register for WhatsApp Using Your Dingtone Number
Step#1. Download and Install WhatsApp on your device.
Step#2. Tap "Agree & Continue" to continue.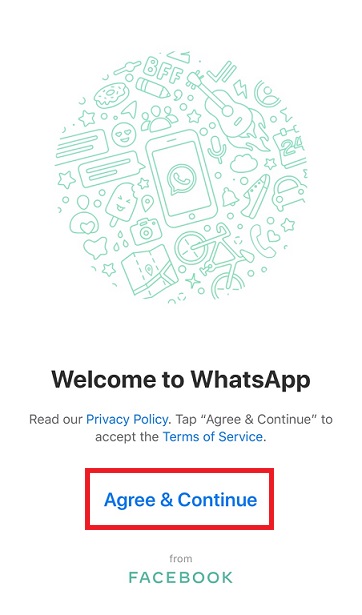 Step#3. Fill in your phone number and submit your verification code.
Fill in your phone number and you'll receive a verification code from the Dingtone app. Fill the code in WhatsApp to continue its signing up.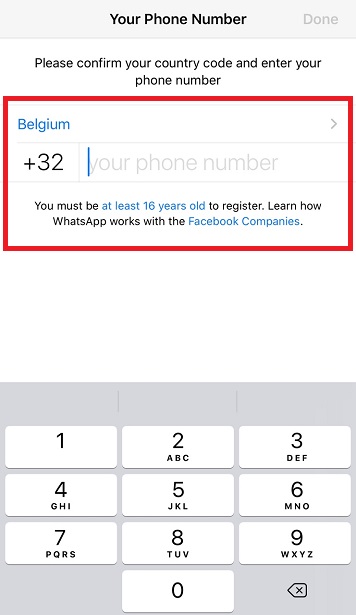 Step#4. Optimize your WhatsApp bio and end your registration.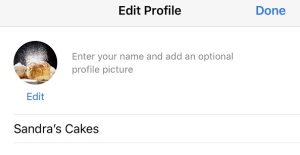 How to Have 2 WhatsApp Accounts on One Phone?
You've already had a WhatsApp account that is registered by your own personal telephone number, or your unique phone number (your personal phone number will hardly be changed unless your location gets changed). Now, all your WhatsApp contacts are your true friends who add you through your telephone number. However, when you start to use WhatsApp as a tool to expand your business or grow your potential customers, are you willing to sacrifice your privacy to strangers? I believe not.
Or, would you like to be interrupted by an unexpected message from your boss at the weekend when you stay with your family? I believe you wouldn't. If you have a job-correlated account, then it makes sense if you totally ignore it at the weekend. Therefore, a second phone number leads to an optimal balance between your life and work.
So, using another phone number to register a business-specific WhatsApp account is helpful for your privacy protection.
On the other hand, when you use another WhatsApp account for your business because you can edit your WhatsApp profile to totally focus on your career. For example, you can edit your WhatsApp name to be the name of your business such as "Sandra's Cakes" so that it's easier for customers to.
If you want to have two WhatsApp accounts on one phone, there are a few methods you can try. Here are some options:
Use WhatsApp Business: WhatsApp Business is a separate app from WhatsApp that allows you to have a second WhatsApp account on the same phone. This app is designed for businesses, but you can use it for personal accounts as well.
Use a Dual-SIM phone: If your phone has dual-SIM capabilities, you can use one SIM card for your primary WhatsApp account and another SIM card for a secondary WhatsApp account.
'Dual Apps' or 'Dual Mode' Some smartphone brands like Xiaomi, Samsung, Vivo, Oppo, Huawei, and Honor offer a feature called 'Dual Apps' or 'Dual Mode', which allows users to run two different accounts of the same chat app. This is another way to have two WhatsApp accounts on one phone.
Use a third-party app: There are many third-party apps available that allow you to use two WhatsApp accounts on one phone. However, these apps may not be secure and may compromise your data. Use them at your own risk.
Use WhatsApp Web: You can also use WhatsApp Web to access a second WhatsApp account on your phone. Open WhatsApp Web in your browser, and scan the QR code with your phone's WhatsApp app to log in to your secondary account.
Apart from WhatsApp, a Dingtone number can be also used to register for other platforms and online services like:
FAQs
Can You Give Someone Your WhatsApp without Giving Your Number?
Yes, you can give someone your WhatsApp without giving your number by using your WhatsApp QR Code.
Does Whatsapp use My Real Phone Number?
Yes, WhatsApp uses your real phone number to identify you and uses your phone number as its ID. This ensures security and privacy, as each user is uniquely identified by their phone number.
Does WhatsApp Use Data?
WhatsApp requires an internet connection, either through cellular data or Wi-Fi, to function. If you allow it to use cellular data, it may use data to send and receive messages, voice calls, video calls, and other types of media when there is no Wi-Fi.
When you send a text message, the data usage is very small, typically less than 1 KB.
When you send a photo, the data usage can be several MB, depending on the resolution and quality of the photo.
When you make a voice call, the data usage can be around 1 MB per minute.
When you make a video call, the data usage can be around 4 MB per minute.
Is WhatsApp End to End Encrypted?
Yes, WhatsApp is end-to-end encrypted by default for all messages, voice and video calls, photos, and files sent between users.does whatsapp give you a phone number.
Does WhatsApp Show Your Phone Number?
Yes, your phone number will display in your profile and you can not hide your phone number.
Does WhatsApp Charge for International Calls?
WhatsApp does not charge for international calls made through its app. The app uses your internet connection (either cellular data or Wi-Fi) to make voice and video calls to other WhatsApp users, regardless of their location.
NOTE: In the event that you encounter difficulties with SMS verification using Dingtone numbers (mostly due to policy restrictions imposed by the registration platforms), we strongly recommend contacting our support team for prompt assistance. You can reach us by sending an email to support@dingtone.me.