You Have Multiple Reasons to Get a Second Phone Number
If you have only one phone number but belong to the following situations, you're quite suggested to have a second phone number.
Need to Make International Calls and Text to Clients around the World
If your job calls for international calls and texts to clients or work partners, the International calling rates are always too high to afford with a SIM-card phone number. To make International calls and texts, you should first buy an International package provided by the number supplier and your calling bill will be generated whenever you make phone calls or send messages. The leading inconvenience of this package lies in its limited countries or areas. Once your clients change their locations or you have more clients in other countries, you need to get the package modified.
Need to Buy or Sell Things on the Internet and Want to Protect Privacy
Do you have such moments when you buy or sell things on Craigslist, eBay, or other e-commerce platforms, host apartments on Airbnb, use Uber, apply for a job or date but you don't want to let your friends or family know or don't expect for a stable or long-term relationship? Then, you can use a second phone number that is especially used for those situations. As soon as the service is finished, the only relationship between you and the platforms will come to an end as well. After all, all the contact established in such cases is temporary.
You're a Multi-Tasker
A second phone number best fits those who do different jobs simultaneously because they never expect any overlapping between the multiple tasks. A second, third, or even fourth phone number can be perfectly used for specific situations.
Need to Register More Accounts on Social Media
Social media has become one of the people's daily activities. Apart from your personal social media account, you can have more to market your business on WhatsApp, Messenger, Instagram, Twitter, etc. Besides, you can have specific social media accounts for your work. Signing up a social media account usually calls for a phone number as your unique identity. Your SIM card number is used to register your personal social media account while a second phone number can be used to register your other social media accounts. As a result, you can sign up WhatsApp account using your second phone number.
Need to Keep a Balance between Work and Life
A second phone number perfectly isolates your life with work so that your SIM-card number is for your life while a second number for your work. As a result, you'll be able to get a balance between work and life. The separation can directly filter some unknown numbers because you won't get worried when you miss a call on weekends that is possibly regarded as a work call. If you have a second phone number, especially for business, you can directly power it off after you end your day or stay for a vacation.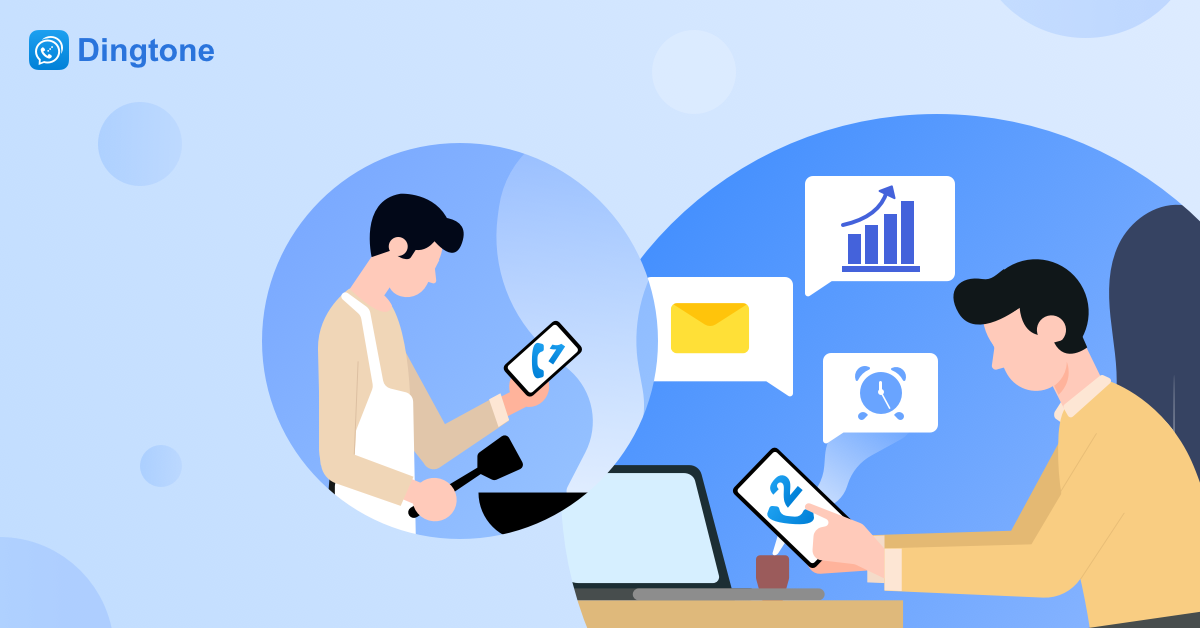 A Second Phone Number Can Do Much More than Expected
Having a Second Phone Number doesn't Call for Another Phone.
A second phone number app gives users a separate number without the need of a new phone. Without preparing another cell phone, users are allowed to have multiple numbers on the same device. You have your SIM-card phone number at the SIM card while keeping another phone number on the app. They can work simultaneously without any interruption between each other.
Users are Able to Dial Any Number at Any Place and Any Time.
The second phone number app allows users to make international calls and texts through WiFi thanks to the VOIP Technology that makes signals sent and received from device to device by the Internet. Whenever there's WiFi connection or cellular data is obtainable, calls and texts can be made immediately on the app. Moreover, the phone number got on this app can be used to dial any number, landline, or mobile.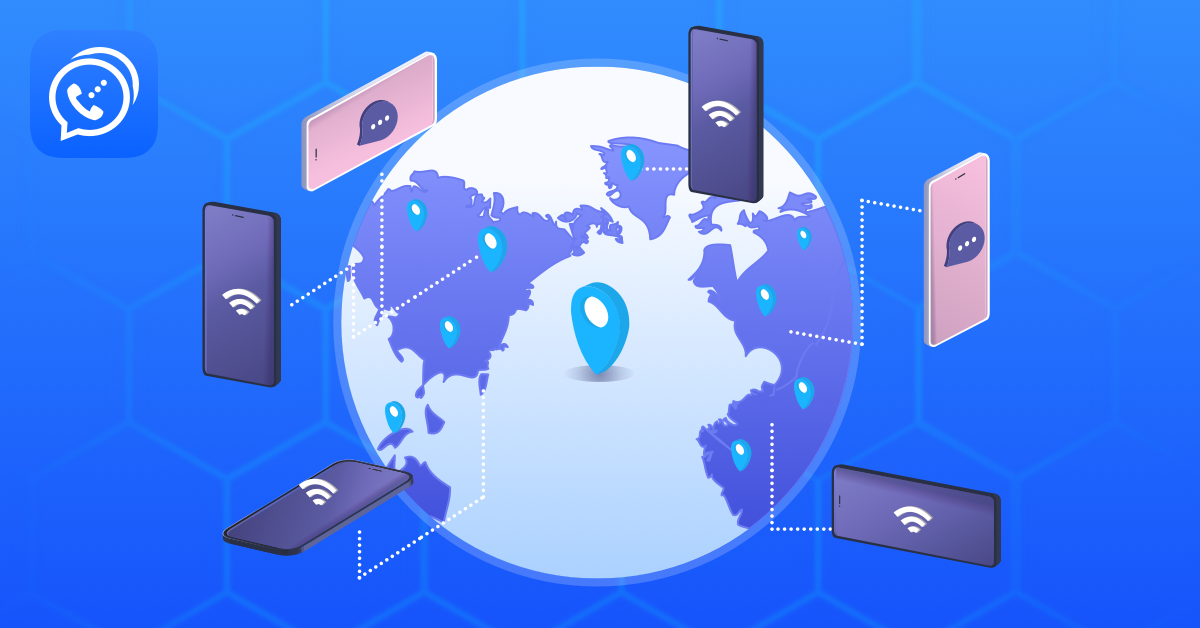 Users Just Need to Pay for Low Ratings to Calls and Texts through a Second Phone Number App.
The participation of the Internet in the telecommunication industry is beneficial to reduce the calling rate since users don't need to pay for the infrastructure or the international package. In other words, a second phone number helps users to reduce the calling rate.
Users Can Select a Vanity Phone Number to Let It Easily Remembered.
It's flexible when getting a phone number from a phone number app. Users are allowed to get a customs number to let it easily remembered by others so that it will instantly occur to potential customers when they need the service.
You Can Get a Second Phone Number from Dingtone. For Free!
A Step-by-Step Guide on How to Get a Free Second Phone Number from Dingtone
Generally speaking, as you dial out your first call using Dingtone, a random US number will be given to you with limited validity time.
If you want to keep a second phone number for unlimited validity or you need a vanity number, you can refer to the following steps:
Step#1. Download Dingtone and Open it.
Step#2. Tap the "Connect" at the bottom of the interface.
Step#3. Tap "My Phone Numbers".
Step#4. Tap "Add a New Phone Number" to enter the country list.
Step#5. Select a country by tapping the "+" and fill in an area code to search.
Step#6. Select a phone number on the number list.
Step#7. Pay for the phone number and then you'll have it.
You're allowed to get a second phone number from Dingtone for free because Dingtone credits can be used to pay for the number. And, Dingtone credits can be won from Dingtone App by completing tasks. Sometimes, you can earn huge Dingtone credits when it's the right time.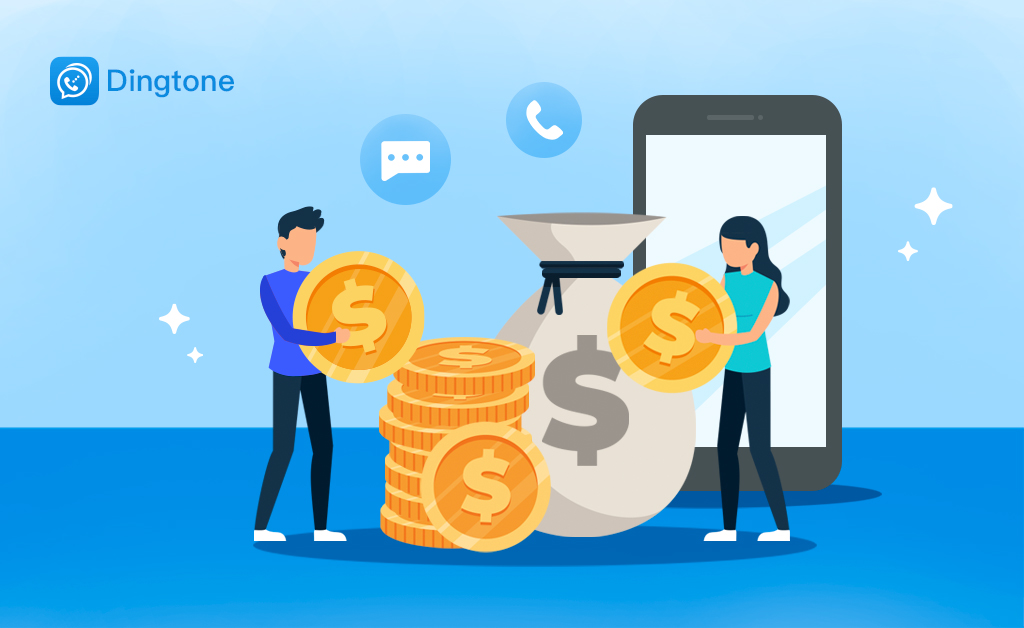 Features of Dingtone Second Phone Number
Unlimited International Calls and Texts
Get a Second Phone Number from the US, Canada, and Most European Countries
Send SMS and MMS (images, voice, video, emoji)
Forward Calls to Voicemail
Anonymous Calling
Access Your Contacts List and Synchronize It with the App
Create and Manage Contacts in the App
Totally Free Calling and Texting between Dingtoners