Hinge is "the dating app designed to be deleted", as is said in the ad.
It aims to provide you the best match based on your profile including your educational background, your attitude towards children, your current geological location, and your habits of drinking and smoking. What makes Hinge unique is its more equal gender ratio compared to other apps, with a 64% male to 36% female user ratio in 2020. As the user base grows, Hinge has expanded from 2.4 million users in 2017 to an impressive 23 million users in 2022.
You can either have a hookup or find true love on Hinge.
No matter what a serious beginning based on which this app is designed, Hinge can be also abused by scammers, which is quite common on most online dating sites or apps. No matter what leads you to use Hinge, you should learn to protect yourself against scammers that just target your privacy or money.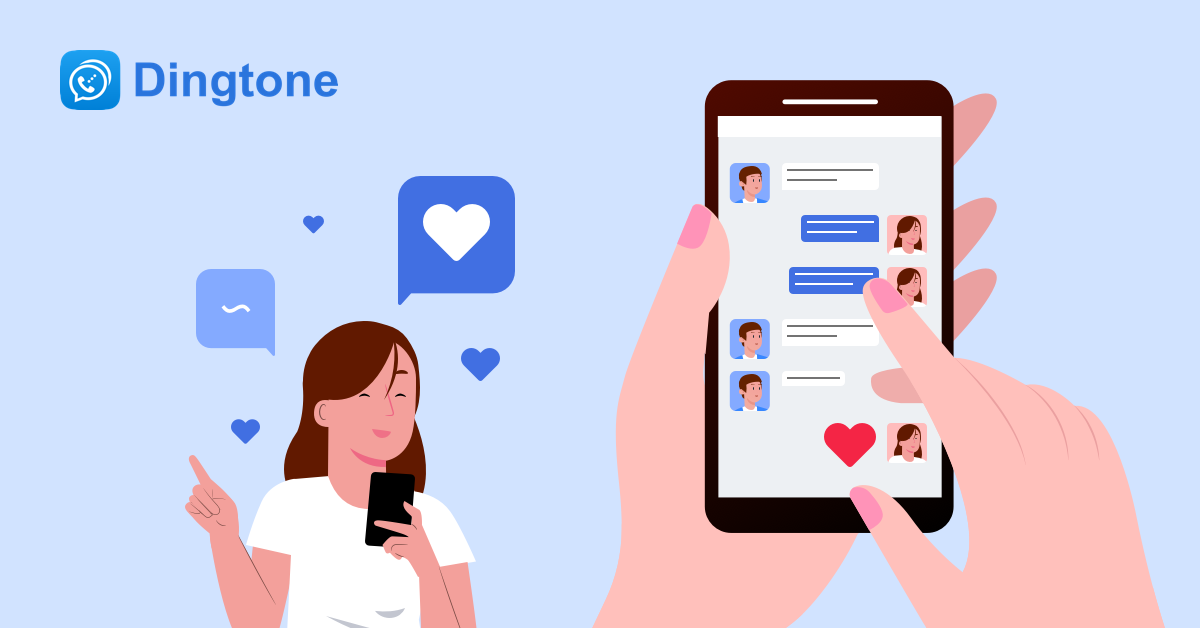 How risky is it to sign up for Hinge with your private number?
Online dating has become dramatically popular since COVID-19 and it has become one of the leading ways for people to find love and romance.
Your personal information may be leaked.
Up to now, your private number contains too much of your personal information and it plays a role as an ID card number (AKA your unique identification) as online services are used because a verification code is usually called for to testify the validity of a number and the number owner. In other words, to testify the validity of a number is actually to testify the validity of YOU as a real person.
If you use your private phone number to register for online dating services, your private number may be leaked to scammers that will probably track all your online links based on the number alone.
You may suffer from unwanted robocalls or ads.
If your private phone number is leaked, your personal information will possibly be sold to the parties that really need it like companies or marketers. As a result, you may receive robocalls or ads that are unwanted with your time wasted on endless robocalls or spam calls. Perhaps you really need such some products or services while most are just a waste.
You may get harassed.
If you use your private phone number to register for Hinge or even give it out to those you meet on it, it would be dangerous. You may get harassed by those you don't like while you can't change your private phone number because it's been linked with so many businesses of your own and that's the only way for people to contact you.
How to register for Hinge without your private number?
It's easy! Use a Dingtone number.
Step 1. Download Dingtone to your device or go to the official site of Dingtone.
Dingtone can be used on both iOS and Android devices and it's free to download and can be used for FREE as well thanks to Dingtone credits.
Step 2. Get a Second Number from Dingtone.
Dingtone users are allowed to get a second phone number from Dingtone for free as long as enough Dingtone credits have been earned.
On the Dingtone app, tap "Connect" > "My Phone Numbers" > "Add a New Phone Number" > Select a country code > select a number and you'll be able to get a real second phone number with enough credits paid.
If you can't collect enough Dingtone credits, it still costs little to pay for a number.
Step 3. Use the Number to Register for Hinge.
First, open Hinge and click the "Create Account" button.
Second, fill in your Dingtone number. Make sure the correct country code has been filled in.
Then, fill in the verification code you've received from Dingtone to complete your verification on Hinge.
Then you should edit your Hinge profile and contacts will be suggested to you by Hinge.
FAQs about Hinge Registration
Can You Have Two Hinge Accounts?
Yes, you can create multiple Hinge accounts.
What else can a Dingtone number help you?
Everyone needs a second phone number but not everyone knows that.
A second phone number from Dingtone can be useful in many ways (some you know while some you don't):
Balance your life and job
A second phone number separates your life from work and you don't need to answer calls from job contacts on weekend or during vacation. That'll be beneficial to protect your vacation from being spoiled by a call.
Boost your business
A Dingtone number specifically for your business can boost your business because it's beneficial for you to focus on the business and your life won't be mixed with your job.
Save cost
A Dingtone number is a real number that can be used to call and text to both landline and mobile around the world. Without a sim card and no need to prepare an extra smartphone, you're allowed to have two numbers on one phone.
Apart from registering for Hinge Dating and Relationships, a Dingtone number can be also used to:
NOTE: In the event that you encounter difficulties with SMS verification using Dingtone numbers (mostly due to policy restrictions imposed by the registration platforms), we strongly recommend contacting our support team for prompt assistance. You can reach us by sending an email to support@dingtone.me.