Nowadays, there are various free calling apps used for making phone calls on the market. Today five calling apps are recommended to you in terms of their features, advantages, and drawbacks. The point is, they all can be used for FREE! Let's take a glimpse and pick up your ideal free calling app. Or, you can also directly scroll to the end of the article to draw a quick conclusion.
5 Free Calling Apps to Make Phone Calls Online
Dingtone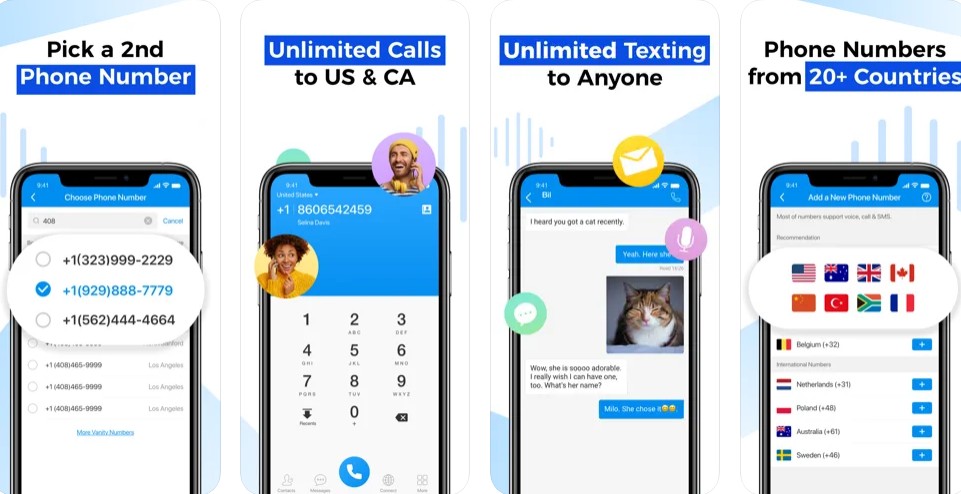 Dingtone is a free calling app that allows you to make unlimited free calls and send free texts to any mobile and landline number around the world over WiFi or a 3G/4G data network. You can make free calls immediately to any number in over 200 countries with very low rates. The free charges are attributed to the special credit-earning system, which can be unlimitedly earned from Dingtone anytime and anywhere. It's simple to grab credits. A Dingtone user has once earned 1000 credits from Dingtone in one day. Besides, voice calls are transmitted on Dingtone's high-quality dedicated VoIP network, providing superior call quality. Free calls and cheap calls no longer have to be cheap quality!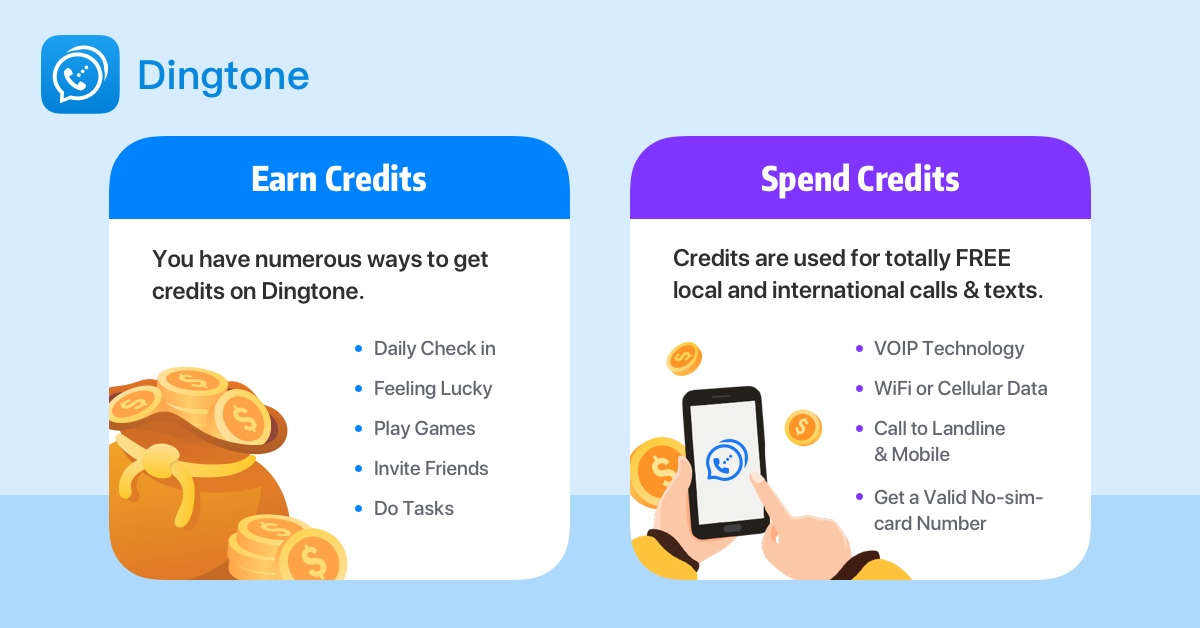 Highlights:
Free calls and texting to any mobile and landline numbers
Extra phone number to protect your personal privacy
Simple-to-handle credit-earning system
Calls are available to any number in over 200 countries
Google Voice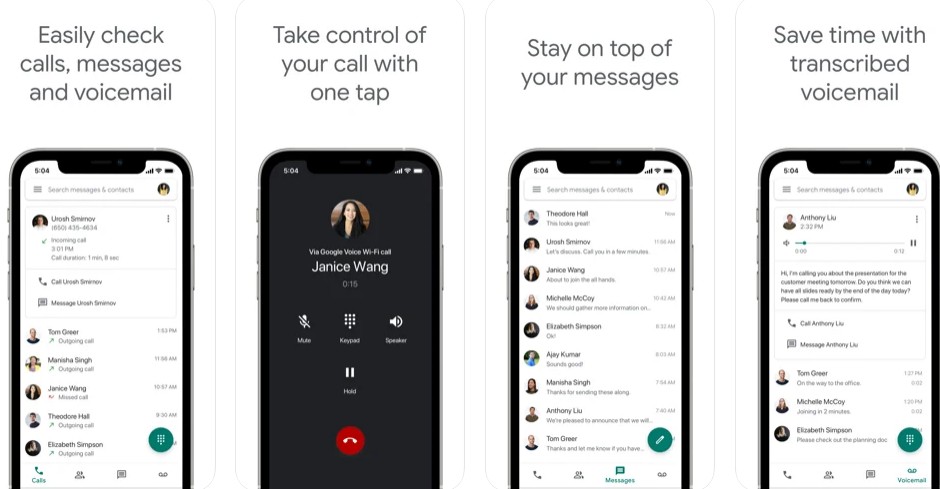 Google Voice is a free service that lets you merge multiple phone numbers into a single number that you can call or text from. You can set up a Google Voice account on either your computer or mobile device, and immediately begin placing domestic and international calls or sending texts.
Your Google Voice number needs to be linked to an existing phone number, so you can't use Google Voice as your sole phone provider. Please be noted that free calls you make with Google Voice must be to numbers in the United States or Canada. If you have a landline at home, as well as a business phone and your personal smartphone, rather than bouncing between three different numbers and devices, you can give out one simple Google Voice number and when someone calls, you'll be notified at all three numbers.
Highlights:
Straightforward interface
Syncs across the device
International credits earned by watching ads
Free calls across the US and Canada
WhatsApp
WhatsApp is a popular texting app developed by Facebook with hundreds of millions of users. WhatsApp is a free-to-download messenger app for smartphones. WhatsApp uses the internet to send messages, images, audio, or video. Since WhatsApp requires the app to make free phone calls, you cannot use it to make free calls unless you install the app or have the landlines. The service is very similar to text messaging services, however, because WhatsApp uses the internet to send messages, the cost of using WhatsApp is significantly less than that of texting.
A great number of users have vague knowledge on the difference between Dingtone and WhatsApp, they are different in the following aspects:
Dingtone provides numbers while WhatsApp doesn't.
Dingtone can reach all lines while WhatsApp only WhatsApp users.
Dingtone is mainly a calling app while WhatsApp is more a messaging app.
Highlights:
Compatibility with a variety of operating systems such as iOS, Android, Windows, Symbian, Blackberry, etc.
Access to send text messages, images, documents, user location, audio/video and other media files, etc.
No advertisements on the screen
Talkatone
Talkatone is an Android application that lets you call and text anyone in the world for free. The VoIP service saves you a lot of money and only requires a good internet connection. A U.S.-based phone number is provided, along with 60 free outbound minutes, so you can call any landline and mobile device in Canada and the U.S. without paying anything. Also, you can enjoy unlimited calling to devices that already have the Talkatone app installed. In addition, the app supports sending SMS and MMS so you can participate in group chats with friends and family members, even if they don't have the Talkatone app installed on their devices.
Highlights:
Call and text friends and family via WiFi or cell data
Availability on Android and iOS, as well as Windows and macOS
Unlimited free calls and texts to any number within the US and Canada
Customized voicemail greetings, passcode protection, and call blocking services
Textnow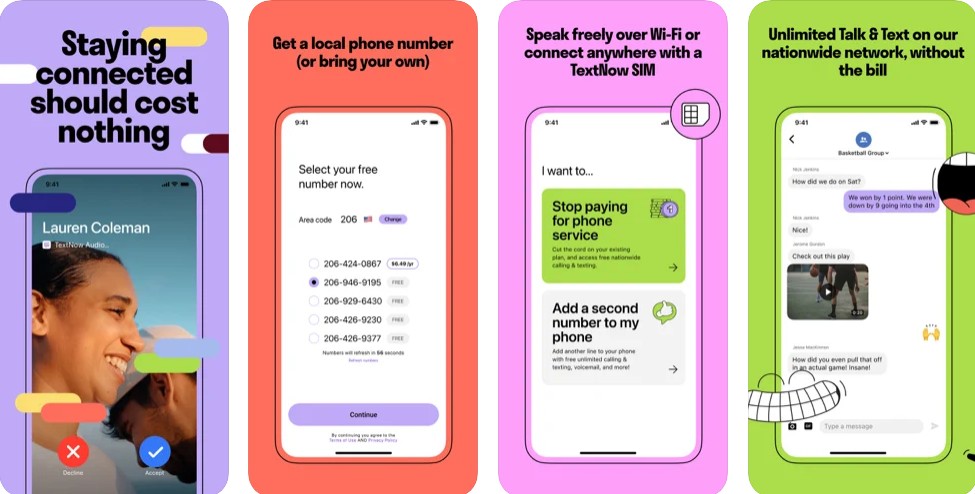 TextNow is an app that allows users to make calls and send texts for free. It works as a mobile virtual network operator (MVNO), which means that it piggybacks on other cellular providers to offer you phone service. With this, you can communicate with anyone using WiFi or an internet connection. You can use the service without WiFi, but you need to subscribe to their plan.
The app's features include making and receiving voice calls, sending emojis and stickers, sending pictures, and floating chat. However, there are also some advanced functions, such as video messaging, voicemail transcriptions, and conference calling. The app also lets you synchronize your messages across your devices so you can access them anywhere if you have the app installed.
Highlights:
Free phone number and unlimited calling and texting to numbers across the U.S. and Canada
Video messaging, voicemail transcriptions, and conference calling
Contract-free service and sync across the device
Which App Works Best on Me?
In a nutshell, there is not a perfect app but a perfectly fit-for-you app. For the free calling apps mentioned above, the advantages are presented respectively below to cater to the various needs of different customers.
Dingtone is best to protect your personal privacy and separate your business from daily life by creating a second phone number and is highly available for users from around the world. Unlike most calling apps, such as Google Voice, TextNow, and Textone, which only allow for subscriptions in the US and Canada, Dingtone offers services all around the world in over 200 countries.
Google Voice is a great resource for merging multiple communication channels for the users who simply have too many phones and numbers to manage. It's also good for regular travelers who are forced to bounce between carriers. If you find yourself changing phone numbers and paying a fortune for international calls, or for those who are looking to record incoming calls for free, it's also a great option.
WhatsApp provides an add-free communication interface that is user-friendly to those who dislike advertisements. All the tools are very easy to use and you can share your location, photos, status, images, documents, videos with your friends. In the meanwhile, WhatsApp provides an end-to-end encryption feature, which makes your WhatsApp communication highly secure. Since Facebook has been criticized for data breaches in recent years, as one of its products, the security of WhatsApp is under question.
Talkatone and TextNow share similar features that both offer free numbers for calls and texting to most U.S. phone numbers, contract-free service, and can be downloaded via Google Play or the iTunes app store. Yet, in terms of call quality and text message quality, Talkatone has relatively better services.