For anyone looking to avoid annoying issues or wasting time with many apps and digital payments, getting a Nigeria phone number when arriving in Nigeria is one of the first things to figure out. A local number is quite necessary for daily communications and instant messaging.
If you move to Nigeria from other parts of the world, you usually have to sign a contract with one of the leading Nigerian telecom operators to get a Nigerian phone number for calls, messages, and online registration.
However, if you want to receive phone calls or text messages from your partner or family in your country, such a SIM card number costs you a lot. On the other hand, by getting a local virtual phone number in your own country (or whichever is most convenient for you), anyone calling you will be billed according to the local rate.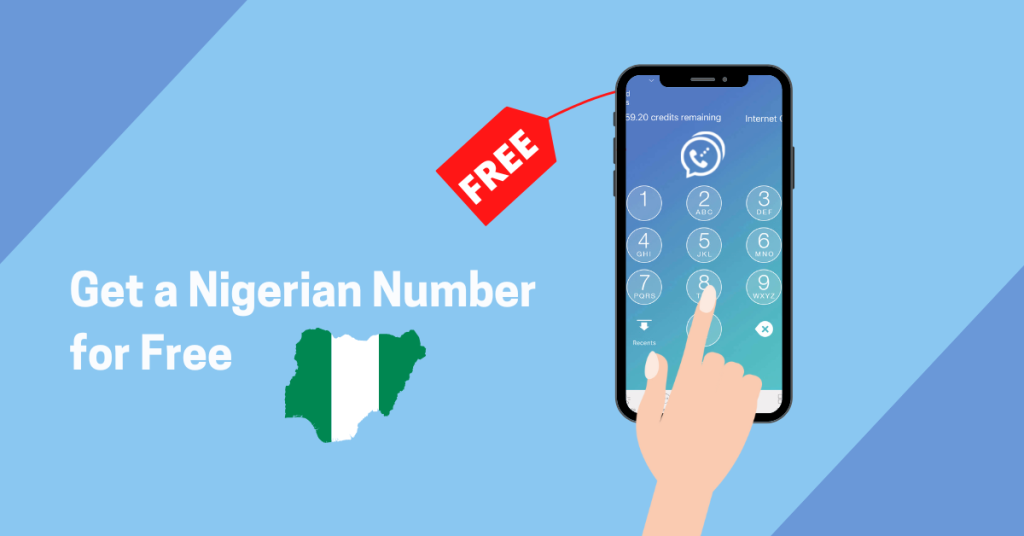 Why is a Nigerian Phone Number Needed?
If your business is not in Nigeria, but you are currently working with (or want to work with) Nigerian customers, you should have a Nigerian phone number for smooth communications with them. With a Nigerian number, your business will look "bigger" or international and more legitimate. The customers or partners in Nigeria will believe you're reliable based on the Nigerian number.
If you are in Nigeria, you also need to use another number, it is more convenient to contact users with a specific number with life and job separated. In addition, a Nigerian number will provide great convenience to bypass SMS verification or OTP verification as online accounts are to be created.
Until now, any online registration or application calls for a valid phone number associated with the account by receiving code or password verification, as well as to complete the registration process and other related functions concerning account security. If you're in Nigeria as a tourist or temporarily staying there for a short period of time, it's not worth a contract with a Nigerian telecom operator, but the option to receive calls or text messages is just enough. You may need to be able to receive text messages to access various services, such as signing up for some travel apps, delivery meals, or a temporary bank account opening. Or maybe you just want to connect with Nigerian friends or clients in a more direct way.
The same thing happens if you find yourself in any other country, not Nigeria alone.
The Format of Nigerian Phone Numbers
Nigeria's telephone numbers are made up of between 9 to 12 numbers. Landline phone numbers in Nigeria consists of area codes and personal numbers. Area codes in Nigeria can be one digit for cities like Lagos, Ibadan, and Abuja, or two digits for other locations. There are various area codes within Nigeria, such as 1 for Lagos, 9 for Abuja, 52 for Benin City and 64 for Kano. Local phone numbers typically contain between five and seven digits, and the length can vary within an area code. Mobile phone numbers in Nigeria begin with 070, 080, 081, 090, or 091, followed by eight digits.
To call a mobile phone within Nigeria, dial the trunk prefix '0' followed by the ten digit mobile number. To call a landline within Nigeria, dial the trunk prefix '0' followed by the area code and the local phone number.
When dialing a Nigerian phone number from the US, begin with 011, the international prefix, followed by 234, the country code for Nigeria. To call a Nigerian landline, include the area code and the local phone number. To call a Nigerian mobile phone, dial the mobile number directly, without the area code.
How to Get a Nigerian Phone Number (Low Cost or Even Free)
Today, many people have multiple phone numbers on their smartphones, and most people do need a second phone number, but they don't know what they need, or they may think getting a second phone number is cumbersome and expensive. For different needs, different people should find different ways to get a second number and different number plans to choose from.
For those living outside Nigeria but calling for a number for telecommunications
For some cross-border e-commerce people, what they need is a real Nigerian number that is used for calls and texts at low cost and features high-quality calling. Therefore, the following aspects should be considered by them:
Low cost
Unlimited calls and texts covered
High-quality voice
For those living in Nigeria but calling for a second number apart from a private one
Some Nigerians want to use a second number to separate their work and personal lives. They can use one line for personal calls and the other for business calls. This way, they don't have to worry about missing important calls from customers just because they're busy chatting with friends. Plus, having two different phone numbers gives their customers peace of mind knowing that the business is professional. Another benefit is that it can help protect their privacy. With a separate number, you can screen calls and avoid leaking your private information to people who shouldn't have it.
For them, the following considerations should be taken into:
Long-term ownership of a number
Smooth calls and texts service
A second number without the need to have a second phone
For those calling for SMS or OTP verification
Still, others need another number to bypass SMS verification alone. SMS verification, also known as SMS verification code or one-time password (OTP)-based two-factor authentication (2FA), is an important way for users to perform identification when using website services or applications, bank accounts, and social networks. With a username provided and a password entered, an SMS verification code will be sent to the linked mobile phone number owned by the user to complete the login through SMS verification. Simple and convenient SMS verification has become the main way to verify the legitimacy of online users. In recent years, SMS verification has become popular among online users and customers for its convenience and simplicity. In this case, you only need the mobile phone number that normally receives the verification code.
For them, the following aspects should be considered when selecting a phone number:
Capable of receiving verification code via message
High purity of the number (the number should never get linked to any account on the website or app)
An Optimal Solution to Get a Nigerian Phone Number for Everyone (Free, Easy, and Secure)
Dingtone is a good idea as it offers the lowest rates for calls and texts within and outside Nigeria. You don't need an extra phone to get a real and valid number, Dingtone provides a valid phone number with a real area code through the app, so you can have an extra number without the need for an extra calling card.
Dingtone allows its users to make calls over cellular data, Internet, or WiFi, and WiFi calls cost less than landlines. Traditional landline service is very expensive, especially for companies that call for a huge number of calls every day. When you sign up for a service plan, local calls and international calls are separated into separate plans, and providers often charge additional duties and fees, some of which are quite high.
Using your phone number with a wireless phone app like Dingtone allows you to make unlimited calls because it doesn't use infrastructure or SIM cards. Therefore, when you use Dingtone for calling and texting, your operating costs will definitely go down. This is because, for calling applications, all numbers are the same in price, whether local or international.
A phone has two numbers. Simple as that, but most phones don't have this option. That's what Dingtone is for. Dingtone APP provides you with free online phone numbers, you can have one for personal life and another for work. So not only can you save money, but when you get a second number, you can protect your personal life from work distractions. Your second phone number can be dialed and received through the calling app and your regular phone number will work as normal.