For those traveling overseas or living abroad, nothing is so important as calling family and friends at hometown when you feel homesick or just tell them how much you miss them. Or you frequently need to make phone calls with colleagues overseas to co-solve job issues. Either situation will let you trapped in a high calling bill in 2022.
Thanks to the VoIP, or Voice over Internet Protocol, a technology that allows you to make voice calls using a broadband Internet connection instead of a regular (or analog) phone line, free international calling has become real and accessible by just getting a VoIP app on your phone. Then you are all set to enjoy unlimited free calling wherever you are.
Here comes the question: How to choose a VoIP calling app among numerous calling apps available in the current market? We listed some tips below that may help you out in 2022.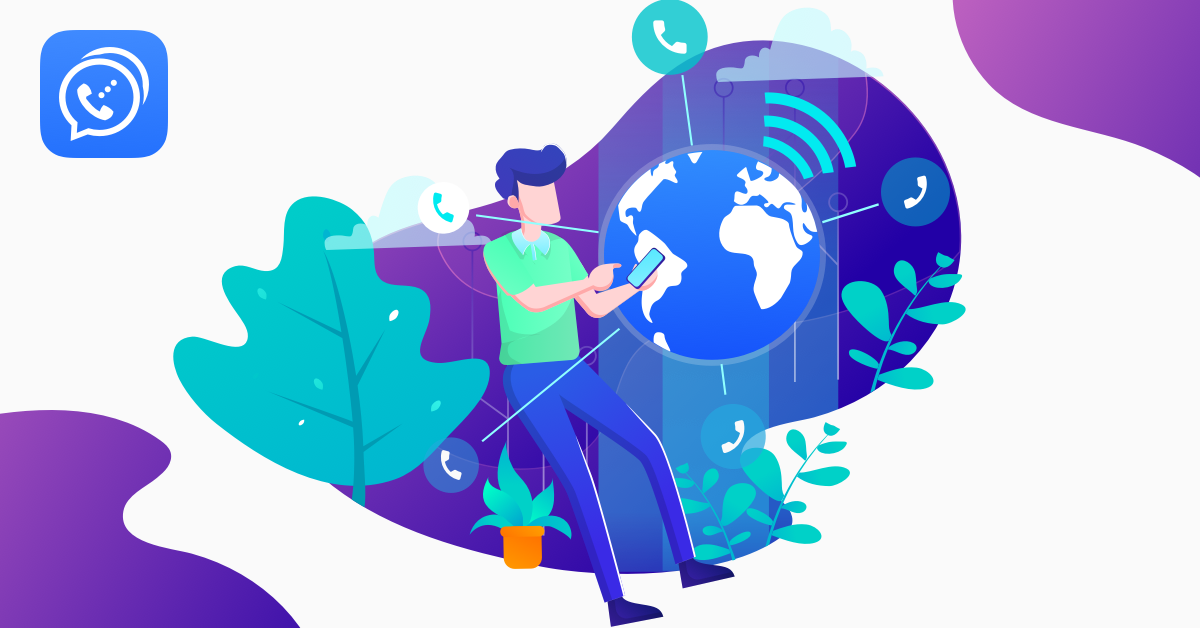 Tips for Choosing a Calling App for International Calling in 2022
Tip #1: The Age of an App
Nothing can verify an app's capability but time. The longer an app stays active, the more reliable it can be regarded as. Therefore, it's suggested to use the app that has been developed for years and keeps constant upgrading based on users' demands. Dingtone has been serving users for about 7 years and it's still among the top of calling apps in App Store and Google Play.
Tip #2: Number of Users
It's not difficult to understand that the number of app users is directly related to its performance. No one will use a bad app but those that can really help them to solve issues or make their life easier. Up to now, Dingtone has been used by more than 30,000,000 users from all over the world and the number keeps going up every day.
Tip #3: Really Free or Not
Among the numerous callings in the market, most of them are not totally free but Freemium. That means you can choose between free of charge and the paid version. For Dingtone, you can earn credits through various methods for free calling and messaging. If the one you call/text with is also a Dingtone user, then credits are no longer a necessity. By just getting connected with WiFi or cellular data, then you are all set to call and text home and abroad for free no matter where you are. But if you prefer some extra Premium services, you can go for it whenever suits you.
Tip #4: How Many Countries and Areas the App Reaches
This one should be given serious attention, especially when you have to make business calls with people in a specific country that may be out of the reach of the app. So make clear the range of their calling services and choose the one that works for you.
Tip #5: Calling and Texting Speed and Quality
It's quite annoying to have low-quality calling and it'll be more annoying when you're talking with important ones. Bad sound quality and constant delays may spoil your business plans. Dingtone is trusted by millions of users worldwide for their business to cut communication time and increase working efficiency.
How to Choose an International Calling Service with the Calling App in 2022?
Now that you've got all the instructions needed to choose a calling app and it's time to choose a calling service on it.
Truly Free Calling
If you prefer totally free international calling services and occasionally call family and friends. That's where Dingtone comes into play, helping you get in touch with your loved ones wherever you are. In Dingtone, you use credits for free calls and texts and they can be earned easily through daily check-in, watching ads video or playing simple games, and regular free credits giveaways.
Credit Packages
If the free credits are less enough for your large calling needs, here comes the credit packages. With the credits, you can make calls to any number in the world at super low rates.
Premium Services
Premium plans ensure you unlimited calling and texting. This is a great solution for anyone who has a large need for calls and texts. It is usually considered as the most reasonable option due to the 'unlimited' feature and lower price when compared with that of phone operators. In Dingtone, if you get an unlimited subscription, you'll get some extra free services like voicemail, custom caller ID, call blocking, call forwarding, and more! With a normal price for calling, you can have more than a calling app.
How to Make International Calls in 2022?
Before International calling, you need to be aware of what contributes to an international phone number.
First, you need to dial a country code. Normally, each country has its own unique country code but there's also an exception that some countries or areas share the same country code. For example, the US, Canada, and some Caribbean areas share the same country code 1.
Second, you need to add a city/area code. For example, the city code of New York is 212 while that of Los Angeles is 213. It's quite easy to look up an area code on search engines and you can remember the area codes you frequently call.
Next, you need to dial the target phone number. It can be the number of either a telephone or a cell phone.
Therefore, if you want to call from the US to a friend in Delhi, India, you should dial the following number:
With all the tips and instructions about how to choose a calling app and service and how to make international calls mentioned above, we believe you are all set to start an international call with Dingtone around.