There are chances when you need to call Sri Lanka from another country like the US or Canada and call from Sri Lanka to other countries as well. Here's a complete guide to calling to and from Sri Lanka, easy and cheap.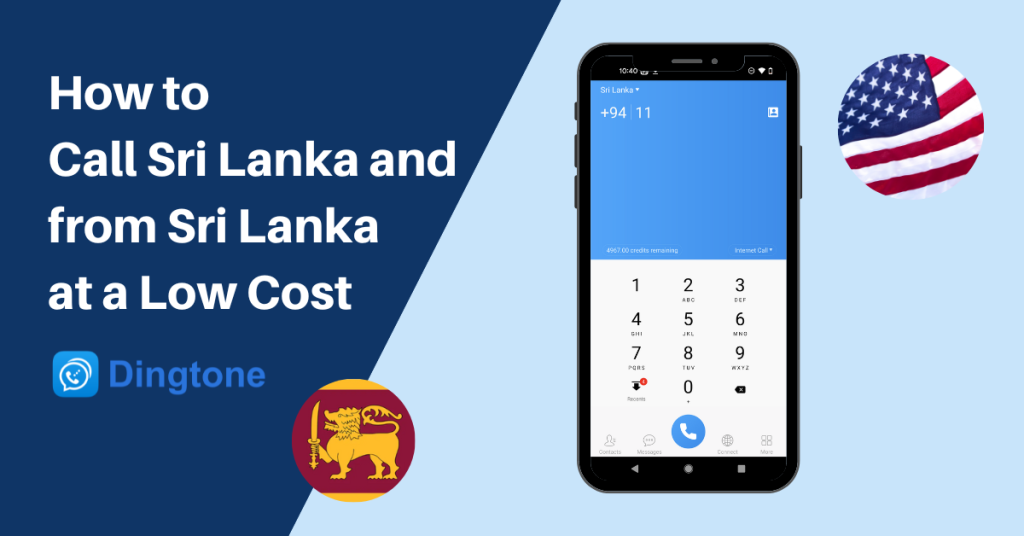 How to Call Sri Lanka (Low Cost)
Call Sri Lanka from the US
There are multiple options to call Sri Lanka from the US, but the common steps are to be followed.
First, check if your phone is "capable" to be used to call Sri Lanka. If you use a landline, please guarantee your number plan supports overseas calls and the fees are acceptable. If you use a smartphone, please guarantee you're using the best number plan from a calling app like Dingtone (striving to provide the most plans and tips to cut international calling rates).
Second, dial "011", the exit code. This step only works for landlines no matter what country outside the US you're going to call. If you use a WiFi calling app, however, this step isn't needed at all. For example, if you call Sri Lanka on Dingtone, you just need to open the dial pad and select the country code of Sri Lanka to call. There's no need to dial "011" first.
Third, dial the country code of Sri Lanka, that is, "94".
Next, dial the area or region code of Sri Lanka. The leading area code list of Sri Lanka is displayed below.
| | |
| --- | --- |
| Area/Region Name | Area Code |
| Ampara | 63 |
| Anuradhapura | 25 |
| Badulla | 55 |
| Batticaloa | 65 |
| Colombo Kelaniya Maharagama Moratuwa | 11 |
| Galle | 91 |
| Gampaha | 33 |
| Jaffna | 21 |
| Kalmunai | 67 |
| Kandy | 81 |
| Kurunegalla | 37 |
| Mannar | 23 |
| Matara | 41 |
| Negombo | 31 |
| Nuwara Eliya | 52 |
| Polonnaruwa | 27 |
| Puttalama | 32 |
| Rantembe | 55 |
| Ratnapura | 45 |
| Trincomalee | 26 |
| Vavuniya | 24 |
Finally, dial the full digits of a Sri Lanka number.
Call Sri Lanka from Canada
The same basic steps are to be followed when calls are to be made from Canada to Sri Lanka. Therefore, the steps mentioned above are the same as those from Canada.
Call Sri Lanka at a Low Cost
Wanna call Sri Lanka at a low cost?
Just use Dingtone.
No matter where you live now, it's a good idea to use Dingtone to call Sri Lanka since it provides the lowest calling and texting rates.
Get a Real and Valid Number without an Extra Phone
A number application usually provides phone numbers with any area code. For example, Dingtone provides valid phone numbers with real area codes via an app so that no extra phone is needed as you have an extra number.
Get a Plan with Unlimited Calls and Texts
Choose a plan with unlimited calls and texts so that there's no need to worry about the cost for calls and texts. The more minutes you call, the more you'll save.
Call via the Internet or WiFi
Compared with landlines, WiFi calls cost less. If you need to minimize the cost of calls to Sri Lanka, use WiFi calling instead.
How to Call from Sri Lanka (Low Cost)
In Sri Lanka, the most economical way to call anyone around the world is to use Dingtone with the following features:
Call any number, landline, or mobile
Free to call and text
Dingtone credits supporting calling rates
Easily earned credits every day
Unlimited call and text plan