Are you looking for an easy and secure way to create a Samsung Account without providing your private number? Look no further, Dingtone is the perfect solution! Dingtone is a free second phone number app that allows you to make and receive calls, send and receive messages, and even create a Samsung account without providing your personal number. This blog will walk you through the steps of how to create a Samsung account with Dingtone.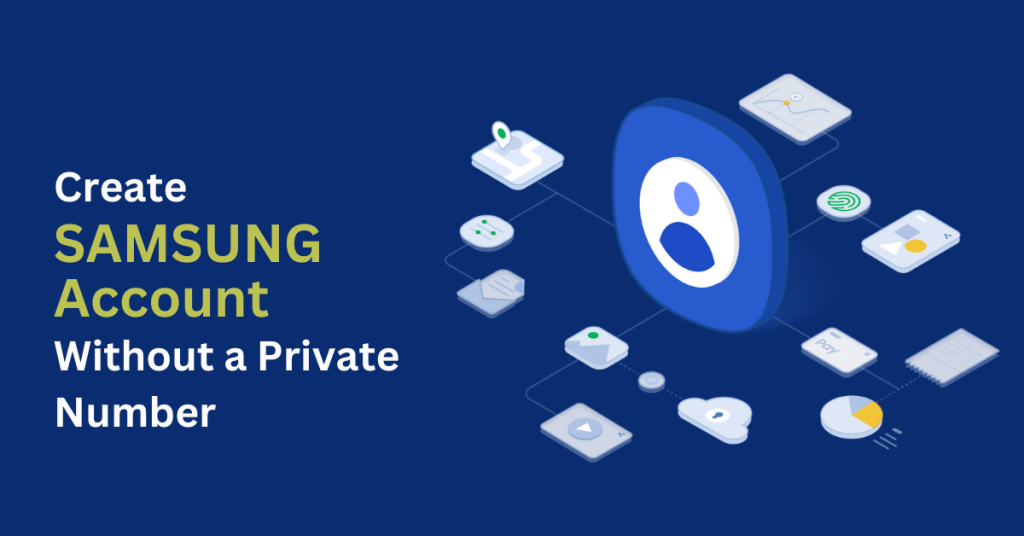 The Potential Risks of creating a Samsung Account with a Private Number
Creating a Samsung account with your personal phone number is a risk that not many people are aware of. When you create an account, it is saved to your phone number and linked to it. This means that if someone gets access to your phone number, they could potentially use your account for their own purposes. Additionally, your personal phone number will be visible to anyone who has access to your Samsung account, making it vulnerable to spam calls and text messages.
Furthermore, the sensitive information associated with your account is also at risk if someone has access to your personal phone number. Your credit card information, emails, contacts, and other important data could be leaked. Even though Samsung does its best to secure the data, it can't guarantee that it won't be compromised.
Given these potential risks, it is essential that you protect your personal information and secure your Samsung account by using a secondary phone number that isn't linked to any personal information.
What are the Advantages to Use a Second Phone Number
Having a second phone number provides a variety of benefits and advantages.
It can help you stay in touch with people without having to give out your personal phone number, such as with online dating. It can also help keep your personal phone number private when signing up for certain services and websites. This prevents companies from having access to your personal phone number.
A second phone number also provides more privacy and security. With a separate line, you can manage who has access to your contact information and prevent unwanted callers from reaching you. Additionally, you can use it to avoid the hassle of having to switch between different SIM cards or networks when you are traveling abroad.
In conclusion, a second phone number can offer many benefits, including added security, privacy, and convenience. Whether you are looking for a way to stay in touch with family and friends without giving out your personal number, or you are looking for a secure and reliable way to manage your communications, a second phone number can be a great solution.
How to Create a Samsung Account with Dingtone
Creating a Samsung account with Dingtone is possible and can be done by following these steps:
1. Download the Dingtone app and register an account. You'll need to provide your email address and a password, which will be used to login into your account.
2. Once you've created your account, go to the "Phone Numbers" section and select "Create a New Phone Number". You will then be given a new number from one of Dingtone's many area codes.
3. Then go to the "Create Account" page on the Samsung website. Enter your first name, last name, and email address, and click the "Create Account" button.
4. You will then be asked to verify your account using your phone number. Click "Skip Verification" to bypass this step.
5. Create a password for your new account. This must be between 8-32 characters and contain at least one number and one letter.
6. Agree to the terms and conditions and click "Create Account."
You now have a Samsung account without needing to use a private number! This method of creating an account is secure and easy to do. The only potential downside is that if you ever forget your password, you won't be able to reset it with a phone number verification. However, this risk can be easily mitigated by setting up a secure backup system for your passwords.
Why Dingtone is the Best Alternative for a Second Phone Number
When it comes to finding a suitable alternative to having a private number for creating a Samsung Account, Dingtone is the best option. Dingtone is an app that offers a second phone number with voice, text, and data services. It's perfect for when you need a second phone number for work, for private conversations, for keeping personal details safe, or for simply avoiding the hassle of carrying multiple phones around.
Using Dingtone for your Samsung Account is a great choice as it keeps your personal information secure and private. Not only does it protect your information but it also allows you to use one SIM card to access multiple numbers. This means that you can save money on your phone bills since you won't need to pay for additional SIM cards in order to use multiple numbers.
Dingtone also offers other advantages such as call forwarding and voicemail services. You can easily forward calls from your Dingtone number to any other number or device, making it easier to manage all your incoming calls and messages. Voicemail services allow you to receive voicemails from people trying to contact you on your Dingtone number and store them securely in the app.
Lastly, using a Dingtone number is cost-effective since you can purchase credits which can be used to make calls, send texts and access the internet without having to pay extra fees. You can purchase credits in the app itself or even buy a prepaid card if you don't want to use a credit card.
So, if you're looking for a secure and convenient alternative to using a private number for creating your Samsung Account, then Dingtone is the ideal choice.
NOTE: In the event that you encounter difficulties with SMS verification using Dingtone numbers (mostly due to policy restrictions imposed by the registration platforms), we strongly recommend contacting our support team for prompt assistance. You can reach us by sending an email to support@dingtone.me.