Have the calls you made on Dingtone failed to get through?
Do your friends tend to not pick up your calls when you use Dingtone?
Don't worry, a few simple steps will help you fix this problem!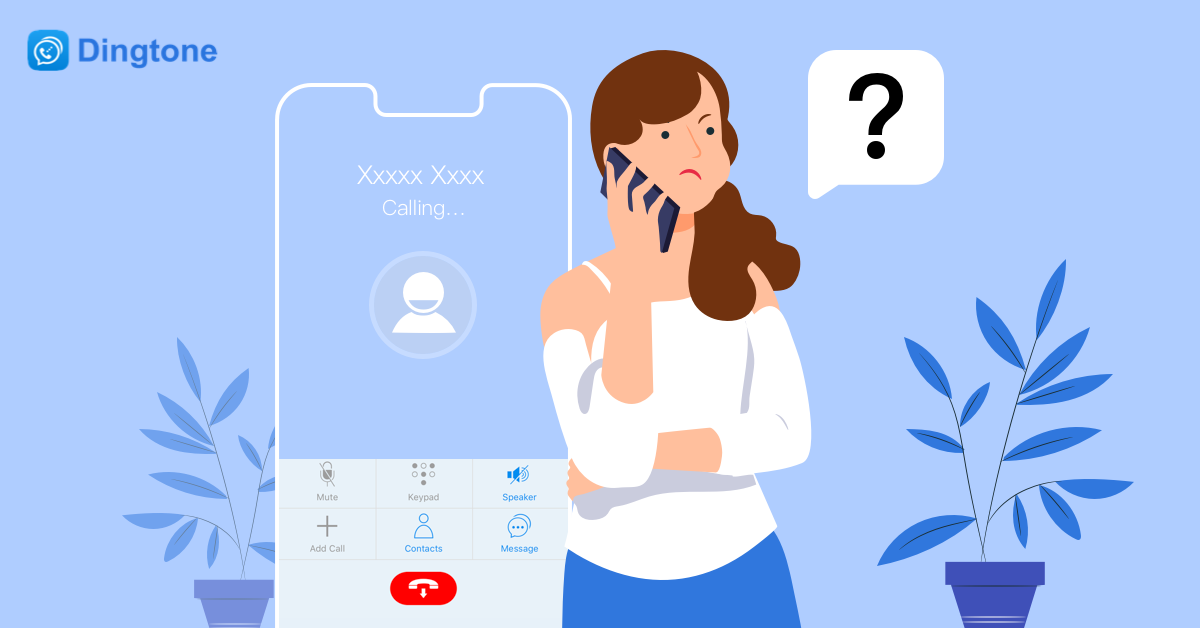 A Few Aspects Should be Checked before Digging into the Calling Issue on Dingtone in 2022
Before the real fixation, it's best to check the following aspects so that all irrelevant or obvious elements are excluded.
Have You Checked the Dingtone FAQ?
FAQ gathers all possible frequently asked questions with replies so that users are able to serve themselves when issues occur. Dingtone FAQ contains so many questions and answers, concerning the Dingtone account, Dingtone phone calls, Dingtone messages, Dingtone phone numbers, Dingtone credits, and all the features.
On the Dingtone app, you can access FAQ by tapping "More" – "Help & About Us" – "FAQ". On that page, all the possible questions will be displayed with general solutions. Users are allowed to click concerning items for replies.
Have You Checked Your Network?
Call quality is primarily determined by the network condition of your device because VOIP technology is used on Dingtone. To transmit a high-quality voice call, Dingtone requires a stable network connection between your device and our server. If your device connects to a 3G/4G network, 3 bars of the signal are required. If your device connects to a WiFi network, please move close to the WiFi hotspot since WiFi has a very limited transport range. Please avoid making calls on a public WiFi which is typically slow. Meanwhile, in the Dingtone keypad screen, there is bar that displays the network quality. If it displays as orange or red, please do not place the call.
Have You Checked Your Dingtone Credits?
The reason why Dingtone can be used to make calls and send messages for free lies in its credit system.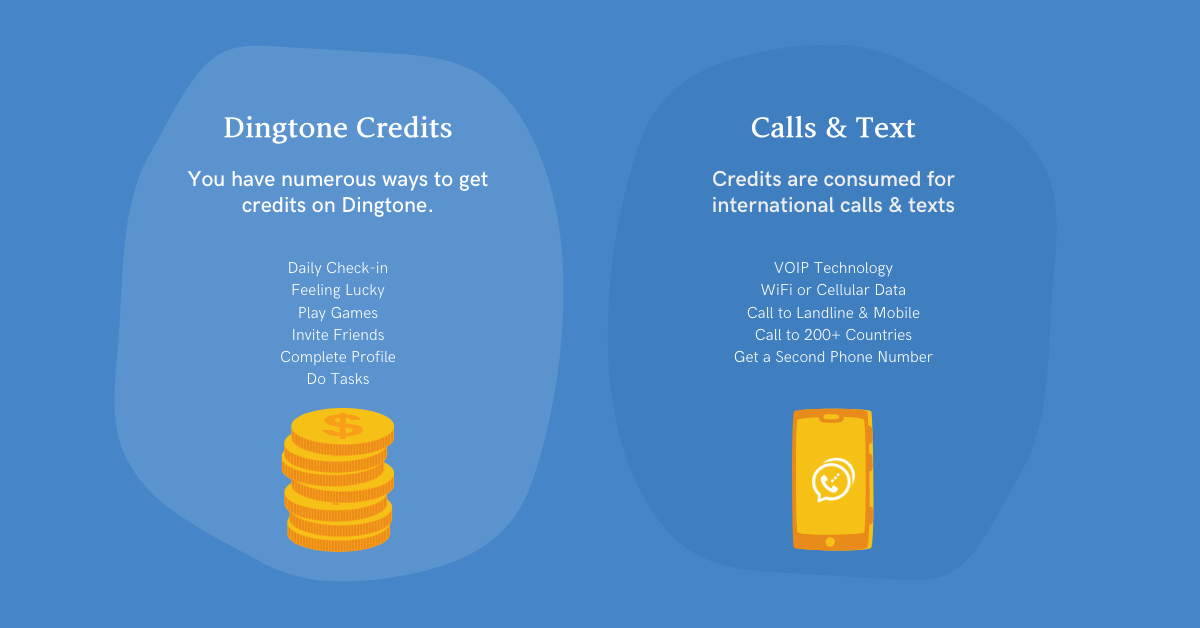 Users can earn credits from the Dingtone app by completing tasks and the earned credits can be consumed to make calls and send messages. Numerous tasks are ready for users who can earn 1000 credits in just one day. However, making a call just takes a few credits. Therefore, before dialing numbers, users should ensure there are enough credits in their accounts.
There are three tunnels to check the number of Dingtone credits.
Tunnel#1. Tap "Call" at the bottom of the interface and enter the Dingtone dialing pad where the remaining credits can be seen.
Tunnel#2. Tap the "More" button at the right lower corner of the interface and enter your Dingtone account page where "Account Balance" can be obtained.
Tunnel#3. Tap the "Connect" button at the bottom of the interface and tap "Get Free Credits" to enter the page where users are able to earn and check Dingtone credits.
Have You Checked the Validity of Your Dingtone Phone Number?
Generally speaking, as users finish signing up an account on Dingtone, a random US number will be provided along with the first call dialing. That number belongs to you for a few months and once it becomes invalid, the call will fail to be successfully made. Therefore, it's important to determine whether the number you'd like to use to call is valid or not. All your numbers can be checked by tapping the "Connect" button at the bottom of the interface and then "My Phone Numbers". Next, all your Dingtone numbers can be seen with their validity time.
Apart from your Dingtone number, the validity of the opposite's number should be checked as well so that you'll be certain that your calls will be able to reach a real number.
To Solve Your Not-Getting-Through Issue, You Should First Know What is Happening When Dialing on Dingtone in 2022?
A better understanding of how Dingtone works when you make a call is beneficial for you to quickly and easily get the issue solved.
First, Dingtone gives you a real US phone number. Unlike the SIM card phone number, it's a virtual phone number without a card. However, it carries the same functions as ordinary phone numbers. Apart from ordinary calling and texting, it can be also used to register WhatsApp, Instagram, etc., or other accounts.
Second, calls are made, and messages are sent with Dingtone credits consumed. All the Dingtone credits are got through completing tasks on the Dingtone app. Among all tasks, Tapjoy and Fyber give users a shortcut to quickly win huge credits.
Third, Dingtone numbers can be used on and on if you buy them with enough credits so that the number will become your second phone number.
Top Possible Causes for Not-Getting-Through Issue and Easy Solutions to It in 2022
Basically, failing calls have the following situations, your call fails to get the opposite's phone, your call gets to the opposite's phone but is blocked and your call gets to the opposite's phone but is anonymously shown.
Situation#1. Your Call Fails to Get to the Opposite's Phone.
Possible Causes
Possible Cause#1. The calling to a certain location isn't supported.
Possible Cause#2. An unstable network is being used.
Possible Cause#3. Either your number or the opposite's number goes invalid.
Possible Cause#4. You have insufficient Dingtone credits supporting the call.
Solutions
Solution#1. Contact Dingtone customer service staff on the app by tapping "More" – "Help & About Us" – "Feedback or Report an Issue" to report your issue. As soon as your problem is seen, solutions will be immediately provided.
Solution#2. Find another place with high-quality cellular data or WiFi circumstances. Note, don't use public WiFi because it's neither stable nor secure.
Solution#3. Buy another phone number on Dingtone.
Solution#4. Complete tasks to earn Dingtone credits. Users are suggested to complete tasks every day to earn some credits.
Situation#2. Your Call Gets to the Opposite's Phone but Blocked.
Possible Cause
The opposite sets block to any unknown number.
Solution
Select a second phone number as your lifetime number that can be used for your work alone and let all your friends or potential customers know it and record it so that your number will be instantly recognized when getting through.
Situation#3. Your Call Gets to the Opposite's Phone but Anonymously Shown.
Possible Cause
Anonymous call is set in your Dingtone settings.
Solution
It's understandable that anonymous numbers are rejected to be answered because most of the time they come from sales reps. To avoid being anonymous, users are suggested to link your phone number to Dingtone account so that you will be recognizable no matter what number is used to call.
To link phone number with your Dingtone account, tap the "More" – "Settings" – "Account Settings" – "Link Phone Number" to finish linkage.
Other Tips to Accelerate the Issue Solvent
Keeping full contact with Dingtone on social media is a way to quickly lead your issue to be exposed to Dingtone staff, including Twitter, and Instagram. Also, you're suggested to bookmark the Dingtone blog for the latest news for credits earning tips.