Online dating has become a new trend. There are 44.2 million Americans using online dating as a tool for finding a soulmate or as a gateway to casual hookups. It's a romantic thing to find your Mr. or Mrs. Right on dating websites or apps like Tinder, Bumble, Omegle, or even Dingtone. However, during the whole process, online security is always the top 1 concern. Follow the simple tips below and you'll be able to know how to protect yourself when you date online.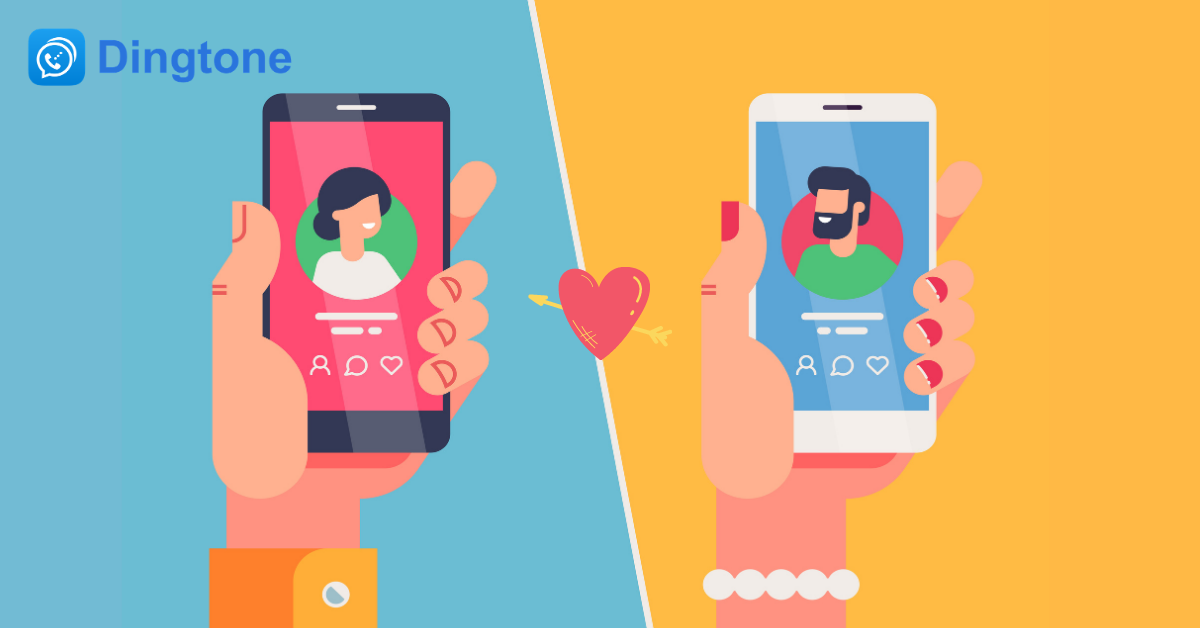 Should You Try Online Dating?
Online dating is NEVER the only alternative if you look forward to finding your true love. However, online dating has become one of the most fashionable and the most commonly used methods to know more people with the same interest, which gets especially ordinary when the COVID-19 pandemic hit the world, leading the Internet to be the main platform of people's most activities.
Moreover, quite a number of dating websites and apps are developed to support the different demands on online dating. There are video dating sites, phone dating sites, text dating sites, private dating sites, and some services that support email chat dating. The only distance between you and your Mr. or Mrs. Right is just a few clicks or taps. Then, why not try online dating?
Is Online Dating Safe?
In general, dating sites and apps are a safe way to meet people, but it is not at all safe. However, each coin has two sides. How much convenience the Internet gives you, and how many possible online risks you may suffer from. With the rising of popularity of online dating, online dating fraud and romance scams are on the rise too. According to the U.S. Federal Trade Commission (FTC), people reported a record $547 million in losses to romance scams in 2021, which is up about 80% from the reports the FTC got in 2020.
Scammers may create fake profiles or try to build a relationship with you online in order to gain your trust and ask for money or other personal information. It is important to be cautious and never send money or personal information to someone you have not met in person.
When you sign up for an online dating service, you may be required to provide personal information such as your name, age, and location. This information may be visible to other users, and it is important to be mindful of what information you share online.
8 Safety Tips for Online Dating
In general, it is important to be cautious when using online dating services. It is always a smart idea to learn about some online dating tips to protect yourself.
Tip#1. Your personal information should be limitedly provided as you date online.
Never share all of your real personal information, no matter whether you're online or offline.
Be cautious when you provide your home address, job location, personal phone number, or other personal information. You should also keep in mind that do not share information on your social media or websites that can indicate your current location since you'll never know who will search you on the Internet unless you're told.
If you start a new contact for online dating, please stick to the default chatting functions provided by the dating sites. As you get ready for further talks or you think the right time comes to swap numbers on your smartphone, you can leave a Dingtone second phone number instead of your private number. As such, your private phone number and personal information can keep safe before your genuine identity is 100% clarified. After all, catfish dating is quite common on dating sites.
Tip#2. Trust Your Heart
Your intuition can protect you so it's important to listen to it.
If your heart encourages you to go deeper into your dating partner, just follow it. The following signals should be remembered since they can remind you to stop online dating with this partner.
Asking for your personal information early;
Suggest a meeting at a non-public place;
Refuse voice or video calling before the genuine meeting;
Say something inappropriate;
Tell lies about their real identities.
Tip#3. Get a Second Phone Number or Email
Even if you feel 100% assured the dating partner is safe and reliable enough and prepare for further talks with online dating sites or apps abandoned, it may also occur that you don't want to share your personal phone number or email with him or her.
A second phone number can be got for free from Dingtone and a second email account can be acquired from the services like Gmail, Yahoo or Hotmail.
Tip#4. Use Your Own Transportation Tool
When it comes to the place where your face-to-face dating is set, home is undoubtedly a stupid idea. Choose a public place and try to use your own transportation tool or public transportation. Uber isn't suggested either if you meet your partner you get to know through dating sites because it'll possibly bring forward more risks.
Tip#5. Do a Background Check
Unfortunately, catfishing and scamming have become common online issues that everyone possibly meet every day. A background check should be done to ensure the dating partner is secure enough or the provided information is true. A background check should include the following information:
How many followers have they got on social media?
Are they male or female?
Are there profiles on their social media accounts?
Do they interact with their followers on social media?
Check whether their images have been modified lately or not.
Ensure the IP address they're using really indicates the geological location.
Check their public records, like marriage, crime, and property ownership.
Tip#6. Don't Use Text Only
Texting is the easiest way to hide a real identity. You're suggested to make a phone call or make a video calling before a face-to-face meeting. Of course, a second phone number is the best with your personal phone number well protected. If the other person refuses to have a phone call or video calling, it's possible that they're hiding.
Tip#7. Never Share Your Financial Information
Just remember never.
It'll be a dangerous signal when money is asked from you. Whenever it occurs, just stop your talk.
Tip#8. Report or Block Them
If you find your self cheated, don't be afraid to report or block them. Nowadays, most dating sites or apps have the functions of reporting or blocking, including Bumble, Tinder, Social Catfish, Yours Dating, and naturally Dingtone.