Proton Mail is one of the most popularly used mail services, especially for business purposes where discretion is of utmost value. The offered end-to-end encryption is top-class and highly reliable. You can send specially encrypted emails that are protected with passwords, so no one can read them randomly. You can send up to 150 emails a day.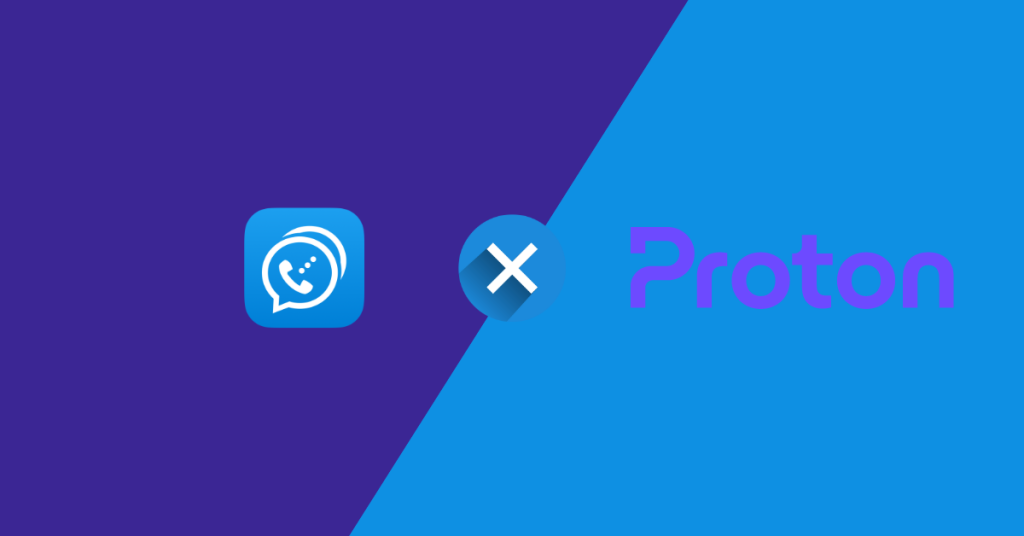 Benefits of Proton Mail Service
It gives an option for a free or paid version so you can decide for yourself.
Encrypted emails expire within a few days so there is no way of tracing them back to their origins.
It offers 500MB of free storage space.
You can access the mail through the browser and app on iOS and Android as well.
Sign up for Proton without Phone Number: Why it Matters?
Reason#1. To keep prevent your personal information from being revealed online.
A mail system is obviously aware of privacy risks and has taken some steps to prevent them altogether, but their efforts still didn't stop a 2018 data breach in which nearly 5 million Google passwords were leaked. If you can create a Proton account without a phone number, you can at least lessen the severity of such leaks, or even avoid them altogether.
Reason#2. Using your real number could expose you to more robocalls and spam calls.
We've already covered why you might be getting so many telemarketing and spam calls in an earlier article, and just like our first point in that article, using your real number to create a Proton account could expose you to a lot of unsolicited spam calls and robocalls. If you can create a Proton account without a phone number, this wouldn't be such a big problem because your phone number won't be as easily exposed to telemarketers and spam callers.
Reason#3. Using your real number could expose you to identity theft.
When you use your real phone number to create a Proton account, other people can use your phone number to sieve out other websites that may contain other personally sensitive data to reconstruct online confidentiality based on which your identity may be stolen. This could not only place you at risk of identity theft but also threaten those around you.
There are many more reasons why anyone would want to know how to create a Proton account without a phone number. Ultimately, it's all about protecting your online privacy and safety. What are some solutions for how to create a Proton account without a phone number then?
How to Create a Proton Mail Account with Dingtone, a Second Phone Number App?
Dingtone is a free calling and messaging app for phones and tablets on iOS or Android. You can register for Dingtone to make unlimited phone calls via the second phone number you've purchased from Dingtone, and send verification text messages to create a Gmail account without worrying about leaking your personal information. In addition to a Gmail account, a Dingtone account registration is also allowed to be linked with multiple IDs including Facebook account, WeChat account, etc., compatible with different demands of users.
How to Get a Free Phone Number on Dingtone?
Step 1. Download and create a Dingtone Account on Dingtone App.
Dingtone App is available on both App Store and Google Play Store, easy for iOS and Android users to download. In addition, Dingtone App can be directly downloaded from here and the corresponding version can be selected based on the operating system you're using.
Step 2. Earn Dingtone credits by completing different tasks.
As you've earned Dingtone credits, you can make calls to anyone on Dingtone by tapping the central button at the bottom of the user's interface. With a country code and a number entered, you'll be able to dial out. As you make this call, you'll receive a randomly-assigned US number from Dingtone. The number can be checked by conforming to "Connect" > "My Phone Numbers".
Step 3. As you've earned enough Dingtone credits, you'll be able to pay for a valid number with the credits. If you rush, you can also pay for a number at a low price. Dingtone subscription starts only from $4.99 per month.
After you receive your Dingtone number, you can begin to set up your Proton Mail account with a few steps:
Step 1. Open a web browser and go to the Proton Mail sign-up page.
Step 2. Select Sign Up > Free > Select Free Plan. Alternatively, choose a premium Proton Mail account plan to get more storage, filters, and other features, and to support Proton Mail development.
Step 3. In the Create Your Account screen, go to the Username and domain section and enter the username you want to use for your Proton Mail email address.
Step 4. In the Password section, enter the password you want to use and retype it to confirm. This is the password you will use to log in to your Proton Mail account.
Step 5. Optionally, in the Recovery email (optional) section, enter one of your alternate email addresses or your Dingtone second phone number in case that you forget the passwords.
Why Using Dingtone for a Second Phone Number is the Best Solution?
Protect your privacy and fight against data breach
Your phone number was never meant to be an all-access pass to your life. Over the course of that time, you've almost certainly handed it out to every person, restaurant, social media platform, or online store. Your number is a thread that can unravel your entire digital life – crashing down your privacy, bank account, or even your very identity. With a second phone number, you can separate your work and life and throw away the number at your disposal, it matters less who has it or if the company that's selling it gets hacked.
Totally free and effective
One of the paramount advantages of Dingtone is that Dingtone's credit system can help users to get free, effective, and authentic phone numbers, which allows you to register and use the sites like PayPal, and the social media platforms like Facebook, WhatsApp, and Twitter. Credits can be easily earned by completing offers provided by the app or watching some ads. The earned credits can be used as calling rates to be reduced as a call is made.
No Need for Activation and VPN
Compared with other apps or services providing numbers on the market with similar functions VPN, on most occasions is needed. However, Dingtone provides a valid phone number that can be directly used to call and text without a VPN. In addition, a Dingtone can be instantly used as soon as the plan purchase gets completed so that activation is not needed.
NOTE: In the event that you encounter difficulties with SMS verification using Dingtone numbers (mostly due to policy restrictions imposed by the registration platforms), we strongly recommend contacting our support team for prompt assistance. You can reach us by sending an email to support@dingtone.me.