Being an Uber or Lyft driver appears to be a nice side income. Working hours can be flexibly set and payment can be achieved fast. However, after deducting the expenditures of chauffeuring strangers about town or making deliveries, the income may not be as high as expected. There's a lot of information on gross revenue statistics, but not much on the hidden costs of rideshare driving. The article below will discuss how much it costs to drive for Uber and Lyft and with it deducted from the overall income, the finally exact income will be easily figured out. No matter where you are in your driving experience, you will have a greater awareness of expenditures, income, and tips for high income. Let's get this thing started.
How Much Do Uber and Lyft Drivers Cost?
One of the most important aspects of estimating Uber and Lyft drivers' income is to know how much it costs them to drive their vehicles. It appears easy at first glance, but the more you think about it, the more confusing it becomes! Expenses include not only what we see and feel, but also all of the unknowns in the future.
The following common factors are explicit cost and drivers are concerned about their price volatility.
Car Insurance
Uber provides additional liability insurance that kicks in when you are accepting trips, traveling to pick up customers, and transporting them to your destination. You will also require your own auto insurance, as you are not protected by Uber or Lyft's insurance while offline. When you rent from HyreCar, however, they handle your insurance coverage, which is an extra benefit of renting rather than using your own vehicle for ridesharing.
Car/Lease Payments
Whether you purchase or lease a car, you will have to make payments on it, which will increase your working expenditures while you are a driver. Many people opt to lease or rent a car to drive since their own vehicle is not suitable for use as a ridesharing vehicle. This may result in an increased cost.
Tolls, License, Permit Fees
Tolls should be included in your incidental charges, depending on where you live. A driver in Orlando, FL, for example, may end up paying up to $5.00 in tolls merely by driving from one end of the city to the other. Uber and Lyft do not cover tolls. It works the same way with other regular fees, such as renewing a driver's license and license plate. These costs are not covered by Uber or Lyft and must be paid by the driver.
Gas
Uber and Lyft do not pay for petrol. Obviously, if you drive for one of these organizations, you will spend more money on petrol than you would usually, thus your gas expenses should be deducted from your overall profits.
Vehicle Maintenance
Car upkeep is always expensive. At the same time, providing driving services through Uber and Lyft inescapably incurs additional fees. Because driving more regularly increases the wear and tear on your car, and there is also the possibility of damage or possibly becoming ill if your passenger is not respectful of your property!!!
Tax Liability
You should also keep in mind that you must pay self-employment taxes on your profits. Because you are an independent contractor, Lyft or Uber pays you in full, and you must pay your own taxes.
Phone Bill
You should have a solid phone plan with lots of data to ensure you can accept rides everywhere. Sure, you may rely on WiFi calling that features more advantages than traditional SIM card calling plans. Check to see if your carrier has excellent service in your location so you can use the app. Therefore, you can ensure that your work will not be forced interrupted. Lyft or Uber, however, will not compensate you for this charge.
31% of Uber drivers use Dingtone numbers for secure and smooth ridesharing because of the LOW cost and HIGH security.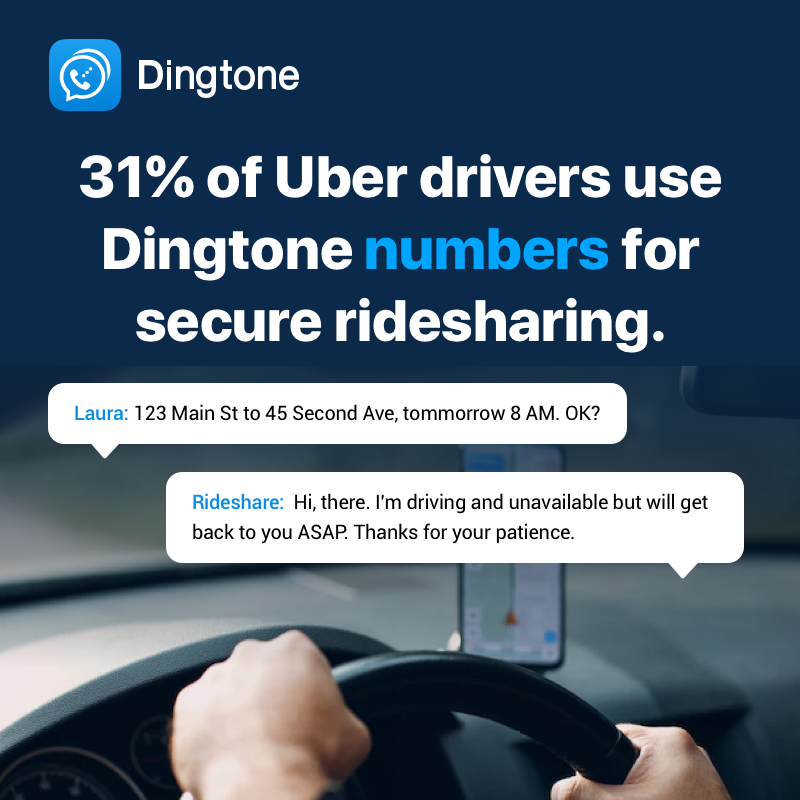 Platform Fee
Standard practice for Uber and Lyft drivers is to remove an additional 20% of a ride charge to cover all of these expenditures. So, if you take the $20 price and subtract the additional 20%, your earnings are $12.
Others
You may wish to provide your passengers with an auxiliary wire or a couple of chargers. You may want to provide little nibbles. Having your automobile cleaned and detailed might assist riders to feel more at ease. Those decisions are entirely yours, and you will bear the financial consequences.
Besides, the age of your car, the location you drive in, the sort of car you drive, and a variety of other factors will also add to the overall incidental costs of driving for Uber or Lyft.
These charges, however, only account for roughly half of a driver's overall expenses. Other expenditures go unnoticed, unfelt, and unnoticed by the motorist. For example, depreciation should be considered. Moreover, health issuers are also often overlooked. You may need to see the doctor more frequently. Back pain and hemorrhoids are typical issues among drivers. You'd better prepare to cope with both issues through preventative actions. All in all, just prepare for both tangible and intangible costs.
How Much Do Uber and Lyft Drivers Make?
Lyft and Uber offer different pricing and rates for their drivers. They state that you will earn a certain proportion of each fare. They do, however, change those percentages all the time. Therefore, they are not fixed.
Lyft currently provides the following rates: per fare, 20 percent; each city takes its sales tax; Black Car Fund, 2.5 percent.
As for Uber, it provides the following pricing, based on a percentage of each fare: UberX, 20 percent; UberBlack, 25 percent; UberSUV, 28 percent.
Additionally, both firms frequently provide sign-up incentives. Take Lyft as an example. It offers a $300 prize to new drivers who complete 100 rides in 30 days.
However, this isn't the whole story.
The amount you can earn is determined by a variety of criteria, including how frequently you drive, the type of car you own, when you drive (and if you get surge pricing/prime time rates), and your operational expenditures.
A recent poll of drivers was undertaken by TheRideShareGuy, a driver who launched his own Uber and Lyft-based website. Questions centered on driver satisfaction, the motivation for becoming a driver for either platform, and how much people actually make at the end of the day. The responses were unexpected.
It's discovered that barely a fifth of the 1,150 drivers polled earned $20 an hour or more—and that's before adding in expenditures like petrol, maintenance, or tires! The bulk of respondents (32.1 percent) earned between $10 and $14.99 per hour, with 17 percent earning between $0 and $9.99 per hour.
According to this poll, the average hourly wage for Uber drivers was $15.68. Of course, once petrol and other expenditures are deducted, the real take-home pay is reduced.
This average was somewhat higher for Lyft drivers, at $17.50. Again, Lyft drivers must cover their own expenses, so the amount taken will be smaller.
How can Uber/Lyft Drivers Earn More?
Drive During the Peak Hours
Driving with Lyft or Uber requires no previous scheduling of work shifts, however, you can enhance your earnings by driving during peak hours that are the busiest times of day, when you may easily get more trip requests and enhance your hourly salary; indeed, the platform will add a percentage to your price during surge pricing.
The optimum times to drive are as follows:
Commute time
Special events/holidays
Every day the peak hours are from 7 am–9 am and 5 pm–7 pm
Late at night, when there are very few drivers and possibly a surge.
Weekends (Fridays, Saturdays, Sundays)
Drive in the City
Without a doubt, major cities such as New York, Los Angeles, and Chicago are significantly busier than suburban places. In the city, if you drop off a passenger, you can easily locate another one instantly nearby. Driving in the city helps you save money on petrol, auto upkeep, and repairs. That isn't to suggest you can't make money driving in the suburbs – you absolutely can. However, the rides are few and far between. And traveling a long distance to go from one place to another means spending more money on gas.
Take Advantage of Additional Promotions
Once you've earned your sign-up bonus, it's easy to get dissatisfied with your hourly pay (unless you're always hitting Prime Time). That doesn't have to be the case; The platform occasionally provides weekly or hourly guarantees, and when they do, you should take advantage of them. It promises change from weekend to weekday, and promos change from day to day.
Minimize Your Cost
As is mentioned in the first part of this article, the cost will surge if no limitations are done so that your income won't get high. After all, being an Uber or Lyft driver is more like a small business owner and each penny should be carefully spent.
Multiple ways are available to cut the cost. For example, fill your gas tank when petrol prices are low or an electric motor is used for ridesharing. Prepare a VOIP number to minimize your calling and texting cost and that'll be also beneficial to automatically manage calls or texts while you are busy driving.
Check Uber When There Are No Lyft Requests
Uber and Lyft are competitors, and they want to keep all of the top drivers for themselves. However, because drivers are independent contractors rather than employees, neither firm has complete control over what you do. That is, there is no regulation stating that you cannot drive for both. Just sign up to drive for both services to save downtime and earn more money. For instance, if you're working a Lyft shift and there aren't any ride requests coming in, check the Uber app. There's a chance you'll be able to pick up a ride request there. You can use both applications on your phone at the same time – just make sure that if you accept a ride on one, you log out of the other.
Increase Your Tips
A friendly smile and a positive attitude go a long way. Moreover, delivering food, water bottles, and other amenities to your passengers is an excellent method to boost your chances of receiving a tip. Fortunately, both Lyft and Uber provide in-app tipping, making it extremely simple for passengers to slip drivers some additional cash.
Sign up for a Food Delivery Company
It is unquestionably worthwhile to do both because demand for ridesharing and food delivery varies based on the time of day and day of the week. As we observed during Covid, there are large variations in demand due to external factors. Overall, doing both will increase your chances of working when you are available and selecting the most lucrative option at that moment.
If you are an early riser or like to work at night, ridesharing is typically a better choice. Customers will normally be less in demand at night or extremely early in the morning, but there will be less competition, and you will receive more gratifying rides. Just make careful to avoid dangerous locations! While morning delivery is growing more popular, demand for food delivery is focused around lunch and dinner time. During these hours, delivering meals is the best method to make money.
Make Use of a Free Calling App
To reduce your mobile phone bill, using free calling app is a good choice. Dingtone is the best free calling app for unlimited calls & texts. It provides not only real phone number, but also free online call to any mobile or landline with no sim card or cell plans needed. In a word, using this application helps you cut the call expenses.
Conclusion
Take this information and conduct some research on your own to see whether driving in your city is worthwhile for you! You might be astonished to learn that you have greater earning potential than you previously anticipated.