Recently, based on WeChat users in India, WeChat fails to be working on Indian accounts. Based on Entrackr, WeChat officially blocks Indian users from sending or receiving messages to comply with Indian bans on Chinese 59 apps last month.
However, there are still some people who need WeChat for instant communication, payment, and information scanning. Here's a quick guide on how to reuse WeChat in India.
Are You One of Those Hurt by WeChat Ban?
As an instant messaging app for communicating, WeChat can never be compared with WhatsApp that is among the topping bunch of most-downloaded Apps in India or even the world. However, the ban on WeChat still hurts some people living, working, or studying in India.
Because WeChat is the top instant messaging app in China and almost everyone gets it installed in cell phones, it has almost become the only way to communicate with Chinese through instant messages.
Therefore, generally speaking, Chinese living, working, or studying in India and the people in India who must communicate with the Chinese are most hurt by the WeChat ban.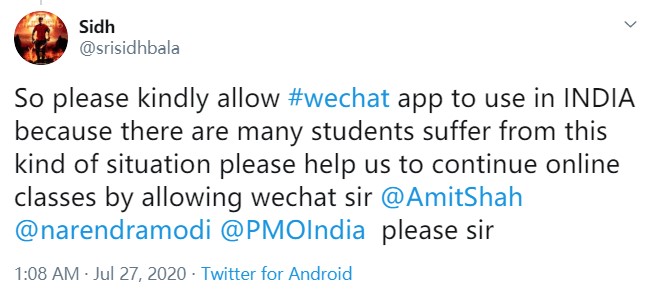 As a communication mode that has been accepted and used by both parties, it's not easy to cut the WeChat line at once and switch to another tool. After all, Chinese only use WeChat. WeChat supports message sending and receiving in types of text, voice, and video. Apart from a communication tool, WeChat also plays a role as a mobile wallet and newsstand. Therefore, what WeChat does is much more than "chat".
For businesspeople with Chinese being their potential customers or cooperative partners, their communications can't be straightly cut just because of an App ban. If your business's majority of potential customers are Chinese, you should restart to use WeChat to continue ordinary communication, or at least to talk with them for the replacement nominate decision.
How to Reuse WeChat in India?
Before digging into the secrets to reuse WeChat in India, it's necessary for us to know what exactly is taking place behind the clicks on the WeChat app in India.
Do you remember how you got your WeChat account? A phone number is required for WeChat registration. Up to now, the blocked accounts of WeChat only refer to those that are registered in Indian phone numbers. However, WeChat becomes gradually unfunctional since the Indian government's ban on Chinese 59 Apps. The ban only stops the smooth application of WeChat while the accounts blocking just aborts the app overall.
To use a VPN for continual application on WeChat is an optimal solution to the ban but it fails to work on blocked accounts.
A Virtual Private Network or VPN has been long used to unblock local restrictions for the network. In India WeChat case, however, it fails to work as is expected. Or, at least, it fails to work alone for WeChat reuse in India.
Now that WeChat accounts are blocked with an Indian phone number registered, you're suggested to register a new account using a new number.
Recently, WeChat notifies users to halt the local service with a message like below.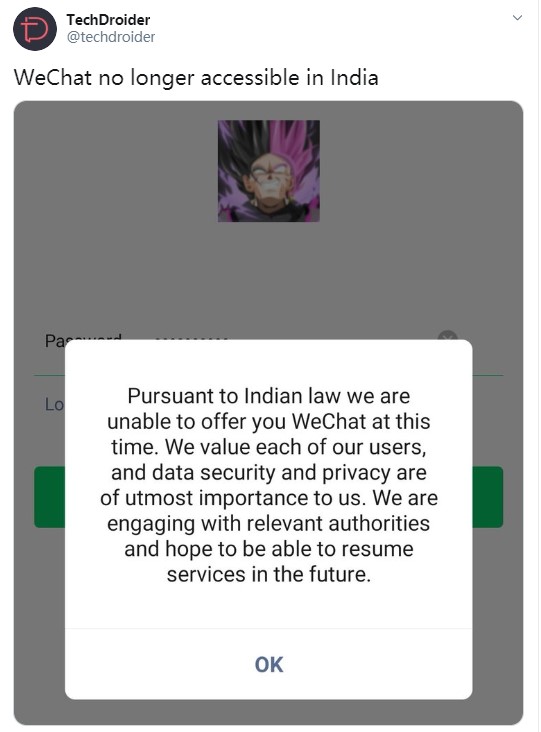 Based on the notification, it is known that the abortion to Indian accounts derives from the WeChat team that proactively or forcedly stop their service in India. However, its service in other places of the world isn't stopped so that an international phone number can be used to register a new account on WeChat that won't be blocked.
But where to get a phone number from another country for WeChat registration?
Here comes Dingtone which provides international phone numbers and calling/texting services to the world.
Dingtone is an app that can be installed on smartphones or tablets with operating systems of either Android or iOS. It can be used to make international phone calls and messages to the world no matter where you are as long as there's WiFi or cellular data available.
Due to the Dingtone credit system, users are allowed to make calls and send messages for free because users have numerous ways to get Dingtone credits on the app like daily check-in, game playing, ads watching, task completing, etc. Users don't need to pay anything for them but a little time ready to be killed.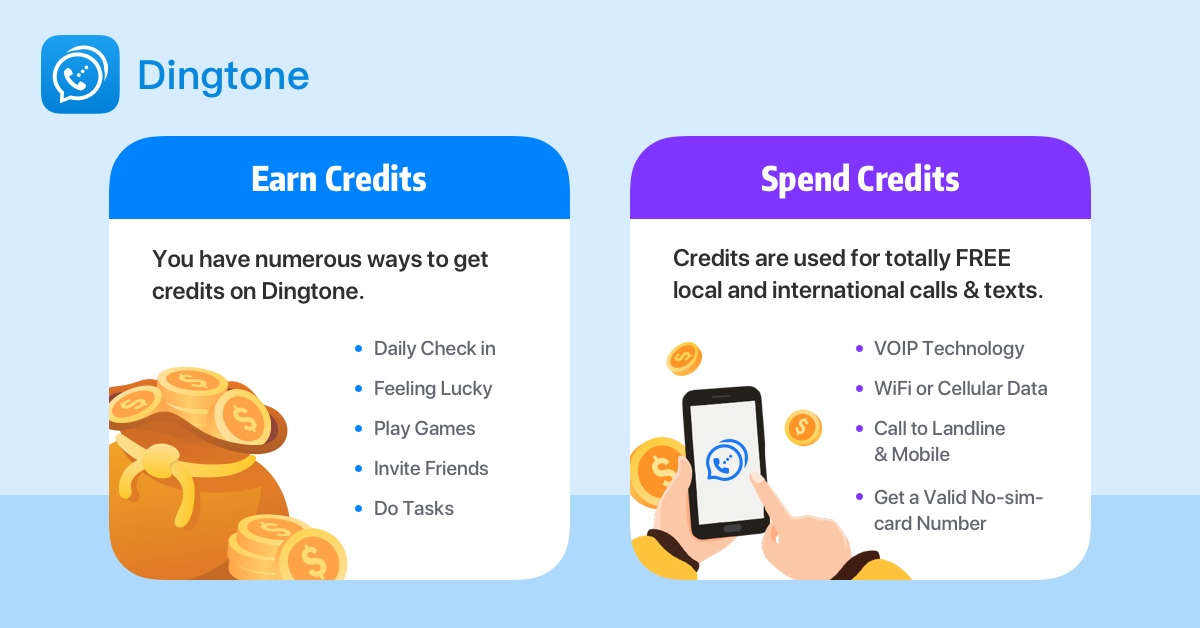 Dingtone provides phone numbers from the US, Canada, Belgium, Netherlands, Poland, Sweden, France, Austria, Puerto Rico, Czech Republic, Australia, Malaysia, Denmark, and Romania. You don't need to have another phone, just use your current smartphone, with two numbers. One is your SIM card number and the other is your Dingtone number.
Dingtone numbers are really virtual numbers that can be used to register accounts on social media apps like WhatsApp, Instagram, and WeChat.
The numbers can be bought using Dingtone credits, which leads you to have a second phone number for nothing.
Apart from a new phone number, you also need a VPN to beat Indian restrictions on the Internet.
Even if you've successfully registered a new WeChat account using a new phone number given by Dingtone, you possibly still can't get access to WeChat because it's been banned by the Indian government.
Then comes the function of a VPN that provides an encrypted end-to-end tunnel bypassing any restriction on the Internet so that your WeChat account won't be banned in India. Now, you're really able to reuse your WeChat in India.