Snapchat is a free multimedia messaging app that lets users send short-lived messages that become inaccessible after a certain amount of time. To create an account, users must verify either their phone number or email address. To protect their privacy, users often enter a fake phone number or use a burner phone to verify their accounts. If you prefer not to provide Snapchat with your personal number, you can use Dingtone to generate a second phone number to pass the phone verification process.
Now, Snapchat adds My AI to contacts and Snapchat users are allowed to talk with their own AIs for fun. If you still have no access to Snapchat, why not grasp this opportunity to create an account right now?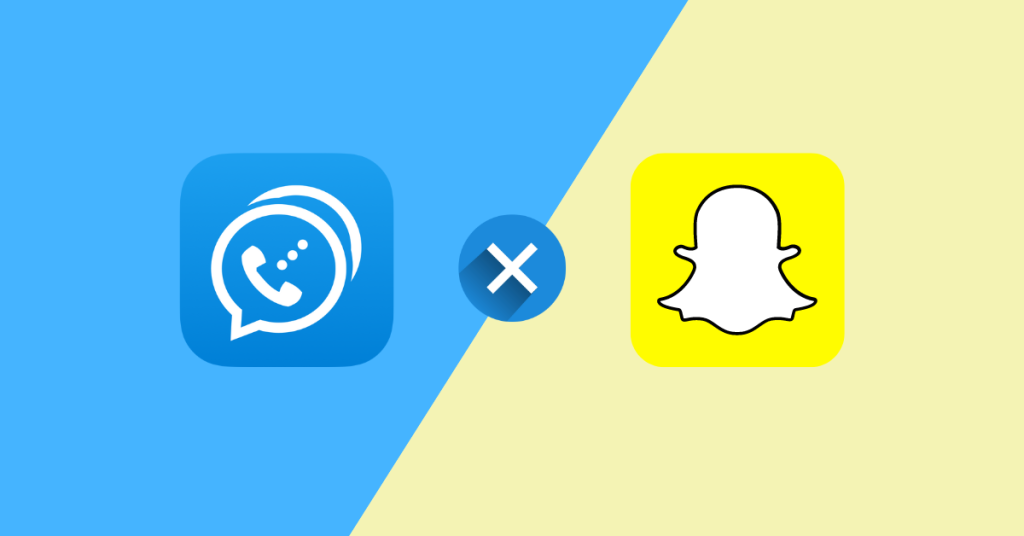 Why does Snapchat Require a Phone Number?
Snapchat uses your phone number to verify your account and ensure that you are a real person. This helps to prevent fake accounts and spam on the platform. Your phone number is linked to your account, which provides an extra layer of security. If someone tries to log in to your account from another device, Snapchat will send a verification code to your phone number to ensure that it's you. Snapchat also uses your phone number to help you find friends who are also using the app. If you allow Snapchat to access your phone contacts, it will search for other users who have registered with their phone number.
Is It Safe to Give Your Phone Number to Snapchat?
The protection of personal information online has become a hot-button topic in the past few years. Large companies like Snapchat and Facebook are notorious for selling their customers' personal info to advertising agencies. Sharing your phone number with Snapchat guarantees that you will eventually receive spam texts and calls.
More than 80% of Americans are reluctant to share their information online due to the risk of leaks and spam. Many apps and services demand users' email addresses, phone numbers, and credit card information to register. To avoid giving away their personal information, people use various methods to circumvent these requirements.
How to Register for Snapchat without a Private Phone Number?
Instead of providing your real phone number to Snapchat, you can:
Buy a burner phone at a retailer such as Walmart or Target
Use one of the many fake phone number apps available online
Google a fake number
Ask a friend to use their phone number
Use the second phone number app Dingtone
How to Get a Free Phone Number on Dingtone
Dingtone is a free calling and messaging app for phones and tablets on iOS or Android. You can register for Dingtone's second phone number to make unlimited phone calls, and send verification text messages to create a Gmail account without worrying about leaking your personal information. In addition to a Gmail account, a Dingtone account registration is also allowed to be linked with multiple IDs including a Facebook account, WeChat account, etc., compatible with different demands of users.
You just need a few steps to get a valid and free second phone number:
Step 1. Download and Register a Dingtone Account on Dingtone App.
Dingtone App is available on both App Store and Google Play Store, easy for iOS and Android users to download. In addition, Dingtone App can be directly downloaded from here and the corresponding version can be selected based on the operating system you're using.
Step 2. You'll have a randomly assigned phone number for free as you make your first call through Dingtone.
As you've earned Dingtone credits, you can make calls to anyone on Dingtone by tapping the central button at the bottom of the user's interface. With a country code and a number entered, you'll be able to dial out. As you make this call, you'll receive a randomly-assigned US number from Dingtone. The number can be checked by conforming to "Connect" > "My Phone Numbers".
After you receive your Dingtone number, you can begin to register for Snapchat by following these steps:
Press the gear button to reach the Settings
Go to the My Account page and tap Mobile Number
Enter the number you want to verify
Tap Verify
In the pop-up window, click on Send via SMS
When you receive the number, input it in the text box and press Continue
If you use Dingtone to generate a new number, you must complete these steps within ten minutes, as the number will be deactivated past this point.
Why Using Dingtone as Second Phone Number is the Best Solution
Protect your privacy and data breach
Your phone number was never meant to be an all-access pass to your life. Over the course of that time, you've almost certainly handed it out to every person, restaurant, social media platform, or online store that's asked. Your number is a thread that can unravel your entire digital life — crashing down your privacy, bank account, or even your very identity. With a second phone number, you can separate your work and life and throw away the number at your disposal, it matters less who has it or if the company that's selling it gets hacked.
Totally free and effective
One of the paramount advantages of Dingtone is that Dingtone's credit system can help users to get free, effective, and authentic phone numbers, which allows you to register and use the sites like PayPal, Fiverr, Clickbank, and the social media platforms like Facebook, WhatsApp, and Twitter. Credits can be easily earned by completing offers provided by the app or watching some ads. The earned credits can be used as calling rates to be reduced as a call is made.
No Need for Activation and VPN
Compared with other apps or services providing numbers on the market with similar functions VPN, on most occasions is needed. However, Dingtone provides a valid phone number that can be directly used to call and text without a VPN. In addition, a Dingtone can be instantly used as soon as the plan purchase gets completed so that activation is not needed.
Keep your phone number private on Snapchat
You don't want to miss out on all the fun your friends are having on Snapchat, but you should also be careful to protect your phone number privacy.
Snapchat says you're in good hands. But remember, the only person that actually takes care of your personal data is yourself. A second phone number can keep your phone number privacy safe on Snapchat while you're having fun.
So that's how to verify Snapchat without your phone number. If you're curious to find out more about how your personal data is handled, be sure to check out Snapchat's privacy policy, Send Snaps the safe way today!
NOTE: In the event that you encounter difficulties with SMS verification using Dingtone numbers (mostly due to policy restrictions imposed by the registration platforms), we strongly recommend contacting our support team for prompt assistance. You can reach us by sending an email to support@dingtone.me.