Who doesn't like to text? It's a quick and simple method to interact with whom own a phone. However, a prevalent misconception is that SMS can only be sent and received through mobile phones. Keep reading, other tools are introduced below to send and receive SMS messages without your phone number. Not only does this shield your privacy, but it also helps in saving money during times of economic strain.
How to Send SMS without Your Number
Typically, you need a phone number or SIM card to send SMS messages. This is because SMS messaging is tied to your cellular network provider and the phone number associated with your account. However, there are some alternative ways to send SMS messages without using your phone number.
Built-in SMS feature over a cellular network
It is the most common way for individuals to send SMS. First, find the messaging icon and tap it. Second, tap the new message button. The new message button will appear at the top of the screen and may resemble a plus sign or a little symbol of a page with a pen. Then, type or choose the number of who you want to text. Next, type your message. Last, send it. When you're done typing, move your cursor to the OK or Send button on the screen.
From Web via SMS sites
Web to SMS, in general, refers to a text message transmitted over the internet. There are numerous websites that allow you to send limitless SMS messages, like 160by2.com, SendSMSNow and tetDrop. Usually, the users need to open the sites and sign up first. After registering, you can begin sending messages by entering the required information and the message you wish to be sent. Each text message provider has somewhat different information requirements, including country, recipient's phone carrier, recipient's phone number and so on. At last, if you are worried about the delivery to the recipient, you can check the status. If it was successfully delivered, a delivery notification usually is automatically shown. Besides, these sites often have special features, such as scheduling future messages and sending anonymous texts.
From email
You can text without your phone by using your email client, which is an often-unknown method. In the process, it's crucial to substitute a 10-digit cell phone number for a "number" for carriers. The device you use to send text messages via email is unimportant. Browser selection is also unimportant in this process.
Access your email using any online browser (such as Chrome, Safari or any other accessible browser) and create your text message.
Then, in the "To" field, enter the recipient's SMS address. The SMS address will be determined by the recipient's location and service provider. You can seek up your recipient's carrier if you are unsure. Websites, such as Freecarrierlookup.com, will verify that a number is a wireless number and provide you with the SMS and MMS addresses for that contact. Substitute your recipient's 10-digit phone number–no dashes or dots–for [number]. Take 818-111-9999 as an example. If the recipient's number provider is Verizon, their texting email address will be 8181119999@vtext.com.
Finally, type the message you want to send and send it like an email. The message will be transmitted to the recipient's mobile as a text message.
Messaging apps to receive SMS Messages with second phone numbers
You can also send messages from a second phone number using the SMS function. You can text sales prospects or clients without fear of them obtaining your personal mobile phone number. Or communicate with new date using second phone number. This not only keeps you safe, but it also makes you appear more professional. First, find the app and download it. Next, create an account. Then the process is similar with the built-in SMS feature over a cellular network.
How to Receive SMS without Your Number
When registering on social platforms(such as Facebook, Whatsapp, Instagram, Telegram, etc.) , dating sites (such as Tinder, POF, Hinge, Grindr, etc.), or other online services (such as PayPal, Coinbase, etc.), users are required to sign up with a phone number and receive an SMS verification code on the phone number to bypass the phone verification. If you have bought a cell phone plan, you can register with your number and receive SMS with your built-in SMS feature. However, if you are not willing to reveal your number, you can try receiving SMS online with SMS sites or a second phone number app.
Built-in SMS feature over a cellular network
You can receive and reply directly from your SMS Chat page, having a cellular network.
Receive SMS online via SMS sites
Several websites offer online SMS receiving services where you can access a temporary phone number to receive verification codes or messages. These platforms allow you to view incoming messages online without needing an actual phone.
Temporary Number Apps
Explore mobile apps specifically designed to offer disposable phone numbers for short-term use. These apps provide temporary numbers that allow you to receive SMS messages for a limited duration before discarding them.
Virtual Number Services
Utilize virtual number services that offer temporary phone numbers for receiving SMS messages. Platforms like Google Voice and Dingtone provide alternative numbers that can be used for verification purposes or casual communication without revealing your actual phone number.
VoIP Services
Voice over Internet Protocol (VoIP) services often include the ability to receive SMS messages. These apps may allow you to receive SMS messages without disclosing your actual phone number.
What Can Dingtone Do for You?
Unlimited SMS messages & calls to US & CA
The amount of SMS messages and calls is infinite. Dingtone texting is more engaging and real-time than standard SMS. They can send multimedia communications like as voice, video, photos, emoticons, or even a location at the same time.
Register accounts without your real number (dating, social media, shopping, craigslist, crypto trading sites)
The privacy issue is always crucial for users. There is no collection of personal information. You don't have to worry about being disturbed.
Bypass phone verifications and receive SMS verification codes
Don't want to reveal your private number to receive verification codes? Or do you want multiple accounts? This platform can help you bridge the gap whenever you're on an app or website that requires a phone number for verification, such as Facebook and Instagram. It's a quick and efficient service. Just make use of this app.
Send SMS messages without showing your real number
It is well-known that having the number enables access to a wealth of information about its owner, including location address. So having the second number is beneficial for privacy and safety. Fortunately, free SMS numbers eliminate the need to reveal your real phone number on the Internet.
How to Send SMS on Dingtone
Dingtone is compatible with different devices in multiple operating systems, including Android and iOS.
Download the latest version of the Dingtone App on your device.
Register a Dingtone Account.A Dingtone account can be registered with multiple personal information like Email Addresses, Facebook accounts, etc.
Open Dingtone and Send SMS to Anyone.
You are allowed to send SMS in different ways. You can tap "Contacts" and choose a messaging target. Tap the "message" icon to send him or her an SMS. You are also allowed to access your phone contacts to send your friends or family messages. Or, you can tap "Messages" at the bottom of the interface and tap the "edit" icon at the upper right corner to enter the messaging interface. Here, you are allowed to send messages in two ways, Free and SMS.
Free SMS can be achieved between Dingtone users while SMS may cost but you are allowed to send messages to any number.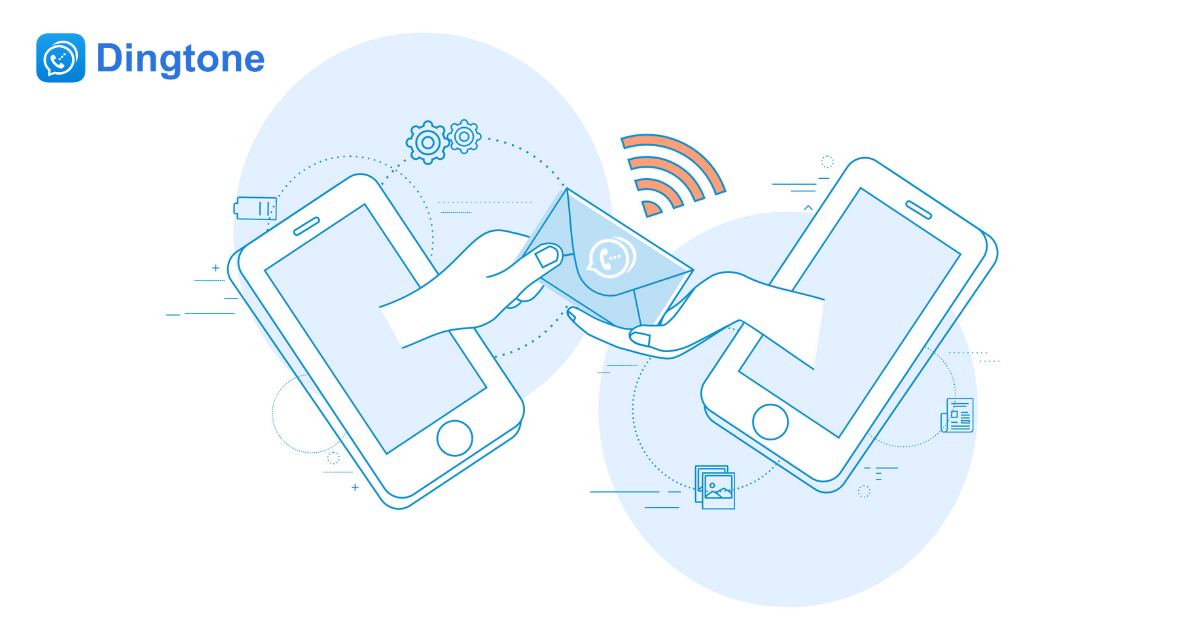 What Can You Send As You Send Messages through Dingtone?
Different content is allowed to be sent on Dingtone app.
Text, Of Course
Photos
Video
Voice
Location
Doodle
Contact
Besides, VOIP calling can be made directly on the messaging interface.
Based on the messaging functions of Dingtone, it can be concluded that similarities are shared between Dingtone and WhatsApp as an instant-messaging tool.
FAQs about Dingtone's SMS Function
Is it possible to send and receive SMS on iPad, iPod and tablet?
Of course! If you install Dingtone free texting App and have a Dingtone phone number then you can send and receive SMSs on iPads, iPods, and tablets. If you don't have a Dingtone number then you can only send SMS from iPad, iPod, and tablet but cannot receive SMS.
Can't receive an SMS on Dingtone free texting App?
Do you have a Dingtone phone number? If you don't have one, then you can only send SMS and you cannot receive them.
If you are having problems receiving an SMS, open the Dingtone app -> More -> Settings -> Call Settings -> Set up Call Block. Verify if the reason you can't receive SMS is that you have selected "Block calls".
If the receiver's phone number and your Dingtone phone number are not from the same country, first check if your friend's phone is able to send international texts. You can also remind your friend to include the country code of your Dingtone phone number when they send you an SMS.
For certain countries where the carriers do not support call display for Dingtone phone numbers (such as the Philippines), your friend cannot directly reply to the SMS you sent but can directly enter your Dingtone number on their phone to reply to you.
For more solutions to can't-receive or can't send SMS on Dingtone, this article is a bible.
Don't want to receive SMS from someone? Block them!
If you don't want to receive SMS from somebody then you only need to tap the "Contacts" button at the bottom of the interface, then find the person you want to block in your contacts, tap to enter the contact's bio page, then tap on the three dots on the upper right corner and select "Block".
How much does it cost to send and receive SMS? Is there a price plan?
Your specific cost for sending and receiving SMS can be found by tapping on "More" > "Settings" > "Call Settings" > "Calling Rates" then choose the desired country code to display the rate.
Non-Dingtone users sending and receiving SMS from a Dingtone user will be charged the rates of their local carrier. It costs 0.5-4.5 credit/SMS.
If you regularly send and receive SMS, especially international SMS, it is worth it to get an annual SMS plan: 6000 SMS for 600 Dingtone credits (including international SMS).
Sending MMS with pictures, videos, location, etc. are the same cost as a text-only SMS
Not only can you send a text-only SMS with Dingtone, but you can also send MMS with pictures, videos, location, voice messages, etc. If you have an iPhone, then you can also send doodles. Dingtone MMS will be sent as a link and the cost is the same as sending a text-only SMS.
When your friend receives your link, they can choose to download it when they are on Wi-Fi. This allows both parties to save costs and data usage when sending and receiving MMSs.