A vanity number is not all about "vanity"; instead, it is a very practical aid to the advertising business. The legendary number 1-800-FLOWERS does not take any effort to stick in the customer's memory and is more likely to attract calls from across the country. Customers seeking for personalized vanity numbers can now select their own 10 digits on Dingtone free call and text app.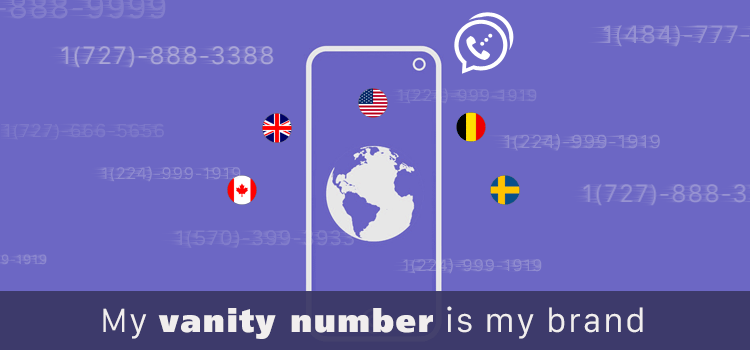 If telephone is still the main channel for customers to reach you, then a mnemonic vanity number is a must. Even if your customer base mainly consists of internet users, an impressive vanity number will be a plus point and spread the word itself. A catchy vanity number will surely be a big plus. For example, imagine you are in a cab listening to the radio: It broadcasts two phone numbers for travel agencies, which one do you remember? Chances are you will remember 1-800-Beaches (1-800-2322437) instead of 1-800-2344583. A number that is easy to remember spread the word itself.
Even if you just want to keep the number private for personal use, you have good reasons to select a good number. Why would you make do with 1-314-666-6289 when a better option 1-314-666-MARY (1-314-666-6289) is available? (given that your name is Mary). If you are enthusiastic about Math, then a number ending with 3142 (3.142) will be awesome.
However, in most cases, the mobile service providers won't allow customers to pick their own phone numbers from scratch. Thankfully, Dingtone, the leading VoIP service provider, give users full freedom to choose the desired numbers from millions of numbers including vanity numbers and toll-free numbers. The better part is users are free to transfer Dingtone numbers to any other carriers such as AT&T, Verizon, T-Mobile, and Sprint if they like.
How to find a vanity number that works right for you?
Dingtone gathers some helpful tips on picking a good number.
Numbers with numeric patterns
It is much easier to remember phone numbers with numeric patterns than 10 random digits. Double digits (5566), sequences (1234), even or odd numbers (2468) and repeated numbers (3333) all prove to be good memory aids. Otherwise, you can also choose date or years with special meaning for you in your phone number since people are always better at memorizing dates and years than numbers.
Numbers that spell your brand
In addition to numeric patterns, another even more popular option is digits that spell your brands or products. When picking up a number, don't forget to check what the number spells on the phone keypad. A phone number that spells out a word or phrase that describe a product is worth millions. Even Facebook pick its India number as 9232232665 which spells 92FACEBOOK in your phone keypad. Although numbers like 1-800-FLOWERS or 1-800-LAWERS may be long taken, you can always get creative with spelling with millions of Dingtone numbers to choose from.
About Dingtone
Dingtone is a free call and text app for iPhone and Android. Located in San Jose, California, Dingtone is a privately held technology company specializing in global communications. Dingtone allows users to make phone calls, send text messages, share multi-media, leave live voicemails, setup conference calls and send faxes to anyone, anywhere in the world for free or at very low rates.