Today, you have more options to call than you did besides the traditional landline. The phone in your hand carries multiple responsibilities apart from a calling tool, which makes WiFi calling possible. Up to now, lots of Apps for WiFi calling are available on the App market, and which ones can be used with the most ease, the lowest cost, and top privacy? This article will tell you.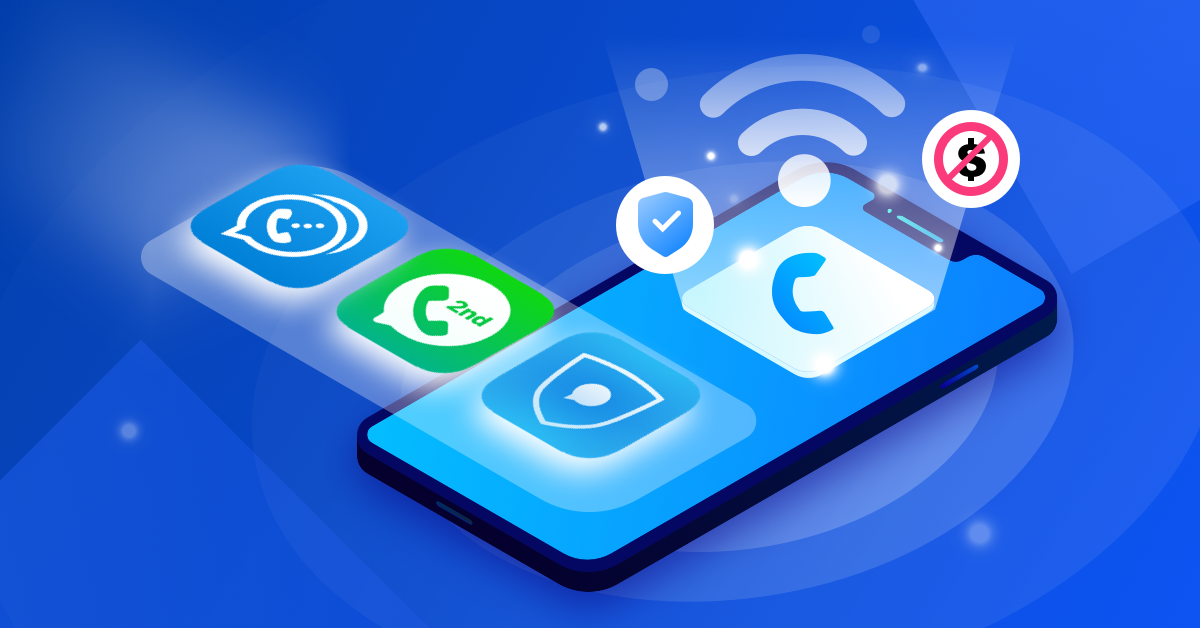 What is WiFi Calling?
Before my writing, I read lots of similar articles introducing "the best WiFi calling". I think, however, there's some misunderstanding on the definition of "WiFi calling". In my mind, the applications like Skype, WhatsApp, and Facebook Messenger DON'T belong to the "WiFi calling" app domain although similar functions are shared like instant communication, text message, voice message, and video messages can be sent through them.
Therefore, it's necessary to first define "WiFi Calling" before the real article. Basically, WiFi Calling allows you to make and receive phone calls and text messages over WiFi instead of using your cellular network. This feature is available on most modern smartphones and is typically provided by your wireless carrier as a free service. Specifically, the "WiFi Calling App" mentioned in this article refers to the application used on cell phones or tablets that allows users to make phone calls based over WiFi plus a Phone Number provided by the app.
Although those apps like Skype, WhatsApp, and Facebook Messenger can be used for communication based on the Internet, they fail to provide a Phone Number to users. However, a phone number is still a valuable property when it comes to significant situations like a business uprising, social media registration, etc. Therefore, all the WiFi calling Apps introduced to you in this article are really apps for calling based on the WiFi.
Why WiFi Calling Apps are So Popular?
Reduce Communication Cost
Compared with a traditional landline, Internet-based calling leads to lower costs because the payment isn't needed for infrastructure or devices. As long as the internet or cellular data is obtainable, calls can be successfully made. By the way, it all depends on the advent of VOIP technology.
The calls through WiFi calling apps have mostly low cost while some even are totally free such as Dingtone allows users to make international phone calls using Dingtone credits that can be earned free on it.
Call to Any Number, at Any Time and Any Place
Generally, a calling app based on WiFi can be used to call at any time and anywhere as long as WiFi or cellular data is available. Almost all calling apps allow users to make phone calls to any number around the world, landline or cellphone, local or international. This advantage usually is the top reason for users to select WiFi calling apps with higher flexibility and more convenience. This can be especially useful if you're in an area with poor cellular coverage but have access to a strong Wi-Fi signal, as you'll still be able to make calls and send messages using Wi-Fi.
Have a Second Number Without the Need for a Second Phone SIM Card
Currently, your cell phone carries more functions other than calling or texting alone. The real WiFi calling app provides you a number that can be used to call and text with your personal phone number normally used. That means the WiFi calling app gives you a second phone number without a SIM card. The second phone number can be used to separate your job and life, to focus or boost your business, and to register social media accounts like WhatsApp, Instagram, etc.
Top 7 WiFi Calling Apps that Give You Real Numbers
Dingtone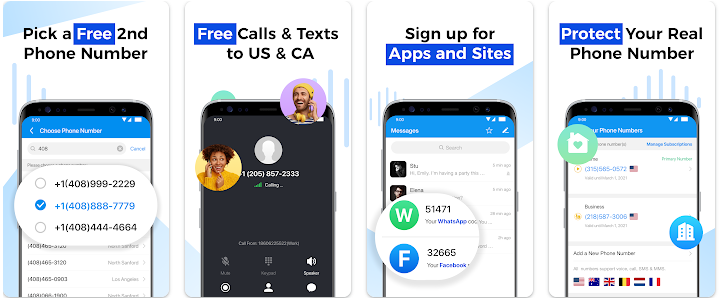 As one of the oldest applications for internet calling, Dingtone has gone through nearly 10 years and has been serving millions of users around the world. Yes, time explains everything. The direct reason for Dingtone's long life and high popularity among its users lies mostly in its FREE service.
Users can make free phone calls to any number around the world totally free of charge. Dingtone credits can be earned and spent by users to unlimited call and text friends or family. Additionally, numerous activities or online games are developed to entertain users so that they can be encouraged to earn more free credits, like Dingtone's Mother's Day activity, cat feeding game, or fruit planting game.
Features
Free phone calls home and abroad
Text free to/from anyone
Great call quality, hd voice over cellular data & wifi
Group conference calls up to 8 people
Group messaging with up to 100+ people
Price
Free and Paid ($0.99 to $39.99)
Talkatone: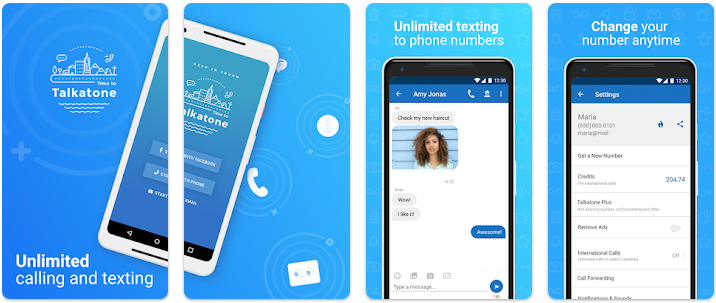 Talkatone allows users to call and text via WiFi or cellular data for free without using cell minutes. It also provides a free disposable phone number.
Features
Free WiFi call and free texts in the US and Canada
Disposable phone number to burn and replace for free
Free international calls
Price
Free and Paid ($0.99 to $12.99)
TextNow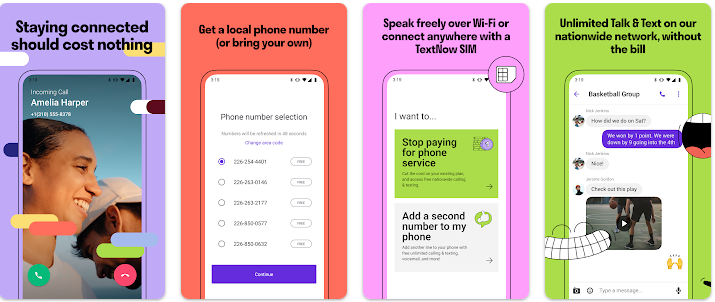 TextNow is ad-supported. Users can make free calls and texts by viewing advertisements. Users can purchase a subscription to remove the advertisements. Users can also access the free wireless network of TextNow with a one-time purchase of a TextNow SIM card, which allows users to call and text without the need for WiFi.
Features
Free calls and texts
Passcode to keep messages safe and private
A Second phone number
Signatures: add a personalized signature to each text
Quick Reply to speedily respond to friends
Text from your computer and seamlessly synchronize with your mobile device via textnow.com
Price
Free and Paid ($0.99 to $99.99)
Text Free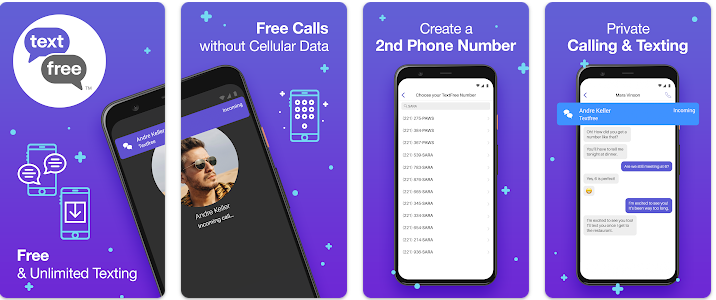 Text Free is developed by Pinger. It offers a real US phone number for free WiFi calling and texting. It allows users to chat, call and send texts right from the phone, tablet, or web browser. It also allows free group messages. It also offers chat features where users can chat with friends on Facebook.
Features
Custom number
Unlimited MMS and SMS message
Group messaging
International calling
WiFi calls
Price
Free and Paid ($1.99 to $69.99)
Google Voice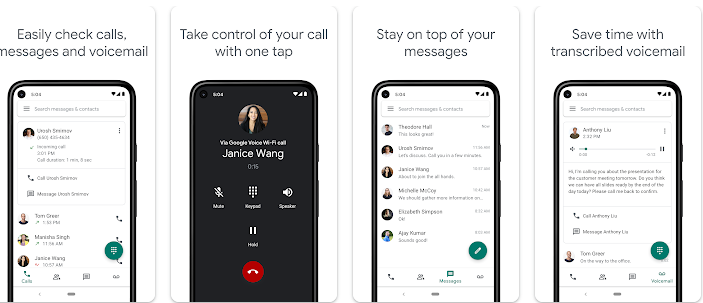 Google Voice offers a variety of features for both personal and business use. It provides a free phone number for making texts and calls. Like other WiFi calling apps, Google Voice is free for calls to the US and Canada only, and international calls are charged. In addition, Google Voice provides voicemail, caller ID, call blocking and call forwarding services.
Features
Voice and video calling.
Phone calling.
Google AI Spam protection.
Call block.
Price
Free and Paid ($3.99/month)
2nd Line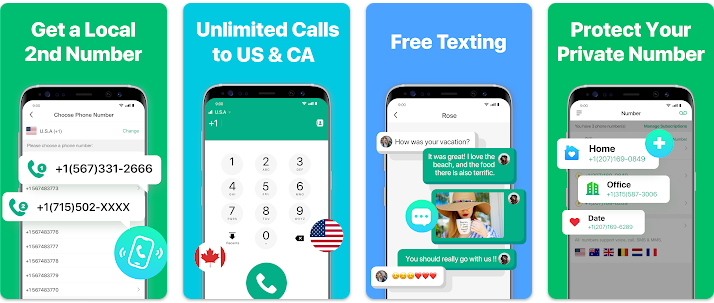 Although the 2nd Line isn't totally free like Dingtone, it is perfectly fit to have unlimited calls and texts to the US and Canada. Therefore, if you have business partners or potential customers in the US and Canada, it's an optimal choice to select 2nd Line as your communication tool. A real US or Canada phone number is provided by 2nd Line and it is your second number to call/ be called and text/ be texted. Similar to Dingtone, the number is a valid one that can be used to sign up for WhatsApp or Instagram.
Features
Unlimited free texts and calls: Call and text unlimited to US and Canada.
Quality calls: Crystal clear voice quality to smoothen your call experience
Custom voicemail: Record a custom voicemail greeting to prompt callers to leave a message
Spam call blocking: Block any unwanted spam caller once forever
Call forwarding: Directly forward your calls to any number you like in a few steps
Call recording: Record any incoming & outgoing calls while keeping the voice quality
Ad-free experience: Enjoy unlimited calls and texts without being disturbed by ads
Price
Free and Paid ($9.99 to $99.99)
CoverMe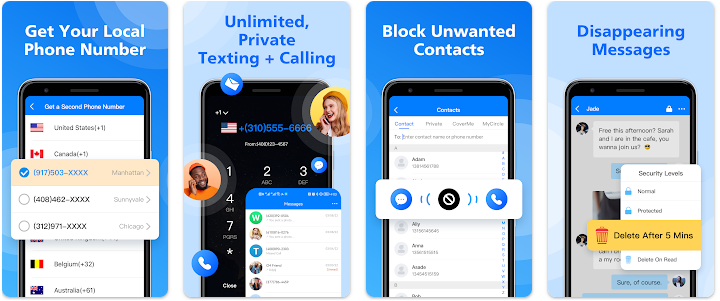 CoverMe, as a WiFi calling app, pays extreme attention to users' privacy protection no matter for an individual or a group apart from basic functions other calling apps hold like calling and texting. One of the shining advantages of CoverMe is its Disappearing Message feature that makes sent messages disappear automatically as long as it's been read. In addition, end-to-end encryption is provided by CoverMe to highly protect all calls and text messages from spying eyes. Also, you can lock it by a simple shake, which is quite useful in an emergency. CoverMe is fit for users who care so much about their online security and privacy or individuals who are holding so many confidentialities belonging to corporations or organizations. Although it fails to support totally free WiFi calling, users' privacy can be well protected as they call or send messages.
Features
Send anonymous texts now from a second phone number
Make secure phone calls with a virtual phone number
Send disappearing messages, recall sent messages
End-to-end encrypt all secret sms & messages
Shake to lock personal text messages
Private vault to hide photos, videos, passwords and any files
Disguise CoverMe with a mask app to hide all secrets and privacy
Price
Free and Paid ($9.99 to $99.99)
Is WiFi Calling the Future of Telecommunication?
No matter which WiFi calling app introduced above is selected, it is undeniable that WiFi calling will be used increasingly more thanks to its high flexibility and low cost. As the Internet is distributed around all corners of the world, it'll be dramatic for internet calling to become common telecommunication. Let's wait and see!